HomeIntake HardwareThrottle Body Injection Kit4 CylNissan 4 Cylinder Throttle Body Kits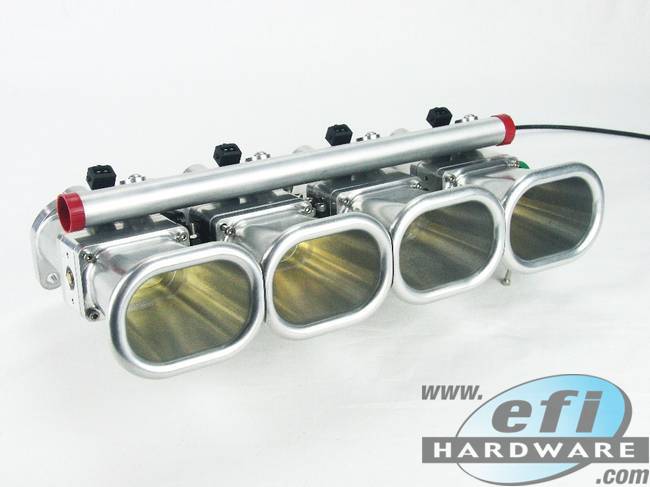 Nissan SR20VE Rectangular Bore Pro Series Kit
In Stock
Product Code: 806-952-P11
$2,772.00
inc GST for Australian CustomersAUD $2,520.00 (ex GST)
for International Customers
1,351.72
GBP1,512.05
EUR2,701.33
NZD177,198.19
JPY1,644.50
USD
approximate only
Options:
Details
The genesis:
2 Years of research and development have gone into creating this landmark kit.
Finally deciding on providing all billet components and a design resulting from over 42 flow bench tests of 3D Rapid prototype components. Flow bench tests include :–
Round throttle bores vs various versions of rectangular throttle bores
With & without tapered runners & inlets (pre-butterfly)

Different profile velocity stacks (ram tubes),

Runners and velocity stacks (ram tubes) with and without golf ball dimples,
Different throttle shaft profiles and throttle shaft orientation and position relative to the inlet valves
Final combinations for the best result
Then working to optimise the way the kit assembles and how the linkage mechanism actuates and accessories fit up. Every part of the process has been meticulously worked and reworked to ensure the highest levels of fit, finish and performance.
There are final combinations that suit both Front Wheel Drive & Rear Wheel Drive with Air Box and other Air Filter options.
It not only looks brilliant, but also flows more than any other SR20 throttle we have tested.
ASSEMBLY OPTIONS:
FUEL RAIL HEIGHT:
This SR20VE kit can be used with any top feed injectors with 14mm top and bottom orings.
Injectors are generally divided into 3 different lengths:
- 1/2 Height - 38mm from oring centre to oring centre
- 3/4 Height - 53mm from oring centre to oring centre
- Full Height - 64mm from oring centre to oring centre
You can choose the fuel rail height to suit the type of injectors you are running on your engine.
AIR BOXES AND AIR FILTERS:
If you order a kit without 30mm Spacers, the linkage assembly will contact the bottom of an Air Box or Air Filter. Therefore, if you are going to going to run an air Box or Air Filter, you must include the 30mm Spacers Option in your order.
If your order includes Long Ram Tubes, and you want to run a sealed Air Box you must option a Deep Air Box.
If your order includes Long Ram Tubes, and you want to run an ITG Air Filter you must option a Deep Air Filter.
The backing plate of any ITG Air Filter or Air Box included in your order will be CNC machined with accurate rectangular ports and screw mounting holes for easy assembly. You won't have to make a single cut.
BOOSTED VS NATURALLY ASPIRATED:
We have lip seals behind the throttle shaft bearings to stop grease from being sucked out of the bearings under high intake runner vacuum. These are turned around on boosted applications so there is no boost leakage and also stops the bearing grease getting evacuated from the throttle shaft the bearings.
We ask you if you are going to run your engine Boosted, or Naturally Aspirated so we can install the Lip Seals in your throttle bodies in the appropriate way to suit your application.