About Us
EFI Hardware is an Authorized Bosch Motorsport Dealer.
In 1998 we started the company EFI Hardware, to manufacture throttle bodies for replacement on DCOE and IDA Weber carburetors, in a quickly growing market. This market was fast adopting programmable electronic fuel injection for a competitive edge in motor racing and since then we have widely expanded our range and continue to do so.
Now programmable electronic fuel injection is also widely used in the road car, hot rod, motor cycle and leisure vehicle markets. This range has rapidly expanded and now includes some specialised products for Europe.
EFI HARDWARE SPECIALISES IN
Replacement throttle bodies for Weber, Delortto, Solex, Holley & Rochester carburetors.
Complete fuel injection conversion systems.
A range of hardware parts to suit the DIY and workshop market
A range of linkages, air filters, low & high pressure pumps, injectors, regulators, sensors, ignition parts, adapting manifolds, fuel rails and surge tanks.
Customized solutions for any application including made to order throttle bodies.
Fuel rails and surge tanks.
THE EARLY YEARS
Speed Technology was founded in 1994, manufacturing motor racing accessories, with Steve Newing at the helm.
Speed Technology still maintains a good range of performance and motor racing accessories including KAAZ LSDs, Seat Mounts, Window Nets, Tow Hooks and more.
But Steve Newing knew there was an expanding market in the EFI sector and promptly went after it by establishing EFI Hardware with a mindset of high quality and great customer service.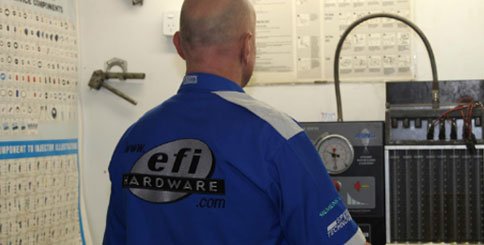 THE FUTURE
In house machining and throttle body assembly maintains our own high standards and ensures we can give our customers what they need, when they need it.
Product, support and customer satisfaction are always in evolution, and improvement in these three areas is constant.