Home / Intake Hardware / Throttle Body Injection KIT / 6 Cyl / Universal 6 Cylinder Throttle Body Kits
Universal 6 Cylinder Throttle Body Kits

THROTTLE BODY QUICK COMPARISON CHART
| | | | |
| --- | --- | --- | --- |
| FEATURE | E-SERIES | PRO-STREET | PRO-RACE |
| 6 Degree Closed Throttle Angle | | | |
| Idle Adjustment Screws | | | |
| Oringed Flanges | | | |
| Tapered Bores | | | |
| Precision 0.01mm Butterfly Tolerance | | | |
Sort: Product NamePriceCode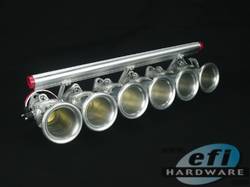 DCOE Throttles are designed to mount horizontally to a Weber, Dellorto, Solex DCOE or DHLA manifold.

BUILD YOUR KIT:
You get to choose all of the components, so you get everything you need.
from $1,308.18
(AUD, ex gst)

6 Cyl Pro-Race set up. Tapered bore throttle bodies In 5 different sizes. We specify The bore size at three points - measuring
A/. At the ram tube flange
B/. Across the butterfly
C/. At the manifold flange.
Example is 50/48/45.
Included with the throttle bodies is billet aluminium fuel rail, Pro-Series linkages and Pro-Series ram tubes.
Throttle Position Switch and injectors not included POA.
from $2,900.00
(AUD, ex gst)