HomeIntake HardwareThrottle Body Injection Kit6 CylE-Series Throttle Block & Throttle Body Kits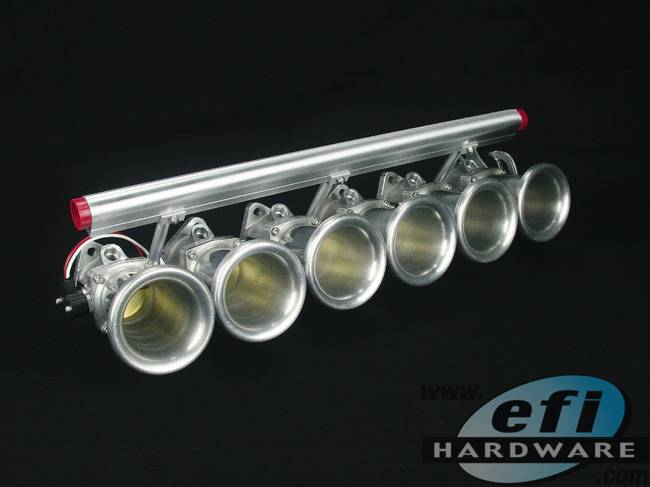 EFI Hardware E-Series 6 Cylinder DCOE Throttle Bodies 45mm and 50mm
In Stock
Product Code: E-800-960-50
$1,760.00
inc GST for Australian CustomersAUD $1,600.00 (ex GST)
for International Customers
864.53
GBP961.95
EUR1,713.97
NZD114,347.39
JPY1,060.69
USD
approximate only
Options:
DCOE Throttles are designed to mount horizontally to a Weber, Dellorto, Solex DCOE or DHLA manifold.

BUILD YOUR KIT:
You get to choose all of the components, so you get everything you need.
Details
FULLY ASSEMBLED VS SUB ASSEMBLED KIT:
We want to supply your Throttle Body Kit just the way you want it.
That's why we offer both Sub Assembled Kits, and Full Assembled Kits.
FULLY ASSEMBLED KIT:
By choosing the Fully Assembled Option above, you will receive:
- Each of your Throttle Bodies is precision factory assembled
- Throttle Shafts cut to correct lengths to suit your manifold
- Linkages are fitted and adjusted to ensure correct and smooth operation
Note: Although we will supply a great linkage fitment, final linkage adjustment
can only be carried out once the engine is running
- TPS "D" drive on the end of the shaft you stipulate so it's in the best position on your engine
- Please contact us for this option prior to ordering a kit with this option as we will have some questions to best assemble the kit to your requirements. There is an additional fee for this option POA
SUB ASSEMBLED KIT:
By choosing the Sub Assembled Option above, you will receive:
- Each of your Throttle Bodies is precision factory assembled
- Throttle Shafts are left long so you can trim them to suit your engine and manifold
- Linkages are supplied for you to fit and adjust once you have trimmed your Throttle Shafts
---
WHAT'S IN THE BOX:
3 x EFI Hardware E-Series Throttle Bodies in 45mm or 50mm
6 x Fuel Safe Oring to Seal Throttle Bodies to Manfiold
6 x E-Series Velocity Stacks (Ram Tubes) - Option
6 x Air Filter Socks - Option**
2 x Pro-Series Joiner Balancer - Linkage Option
1 x Pro-Series Cable Pull & Throttle Stop Linkage - Linkage Option
1 x Left Hand Throttle Return Spring - Linkage Option
1 x Right Hand Throttle Return Spring - Linkage Option
1 x Throttle Position Sensor (TPS) - Option - High Quality Eurosensor Brand Throttle Position Sensor
- Works on clockwise or counter clockwise rotating shaft
1 x 600mm Length Of Fuel Rail or Custom Rail - Part of Fuel Rail Option
3 x Fuel Rail Bracket - Part of Fuel Rail Option
6 x Fuel Injectors - Option
**If you choose 50mm Throttles and Ram Tubes, the inside edges of the two adjacent Ram Tubes touch each other, and the edges will need to be bent by 2mm to allow a gap for the air filter material to squeeze between the two Ram Tubes. This is not an issue on the 45mm kits.
---
MAX AIR FLOW:
There are a whole lot of factors that determine the maximum amount of power your engine can make. And, as you are most probably aware, the amount of air you can get into your engine is one of those factors that will determine the maximum amount of power your engine can produce. To ensure we don't get in the way of your air flow, we machine flats on both sides of the throttle shaft. This reduces the width of the shaft, but allows the shaft to maintain much of its strength, which is vital to keep the throttle plate position indexed to the throttle bores. Accurate indexing means the throttle plate returns to the same closed throttle position time after time without scraping the sides of the throttle bore as it closes.
INDUSTRY STANDARD THROTTLE SHAFTS:
Our industry uses 8mm as the default throttle shaft diameter. And of course, we follow suit. Our throttle shafts are made from brass for ultra long life. And, of course, we can supply throttle position sensors to suit.
SMOOTH OPERATION:
We know you don't want your throttle shafts to flog out their bushings, and induce air leaks will may cause idle inconsistency that you will find very frustrating.
Unlike some cost compliant throttle bodies that are manufactured using bushings around their throttle shafts, these babies use high quality sealed bearings to ensure smooth operation for an extended lifetime and zero throttle shaft wear.
LONG THROTTLE SHAFTS FOR FLEXIBILITY:
It's important to us that you can make this kit fit your application as simply as possible. So, we made each throttle body with 25mm of throttle shaft sticking out each side. This means that you have the flexibility of having up to 125mm between throttle centers of adjacent throttle bodies.
All you need to do, is to cut the throttle shafts to the length you need for your engine once you trial fit these throttle blocks to your manifold.
SPECIFICATIONS:
- Throttle Plates - 45mm or 50mm (it's your choice)
- Bore Centers - 90mm (Standard DCOE Bore Spacing)
- Bore Length - 26mm
- Ram Tube Mounting Holes Pitch Circle Diameter (PCD) - 67.5mm
- Throttle Shaft Location - High Quality Sealed Bearings
- Throttle Shaft Diameter - 8mm
- Throttle Shaft Material - Brass
- Throttle Body Material - Aluminium
- Throttle to Manifold Sealing Method - Fuel Safe Oring
---
Multipoint Fuel Injection - is the preferred method of fuel delivery, with injectors at each cylinder port. Using an appropriate ECU and Distributor you can run your engine in sequential injection mode, lowering fuel consumption and achieving better drivability than batch fire fuel injection.
TPS Mounting and Drive - uses an 8mm shaft with 6mm across the "D". The mounting holes PCD for the TPS is 32mm.
---
ACCESSORIES:
PART NUMBER
DESCRIPTION
IMAGE
H-MAPCOL4

4 Cylinder MAP Sensor Collector




If you are after great drivability with
great engine response, you should consider
using a MAP Sensor Collector for the ultimate
blend of power, throttle response and
tunability.



---
6° THROTTLE PLATES
In the past, 12° throttle plates were the industry standard. The problem with 12° throttle plates, is that as the plates are moved off the closed position, the change in airflow is huge. It makes it very difficult to drive smoothly at lower throttle openings.
6° throttle plates improve off idle and cruise driveability making your vehicle far more enjoyable to drive.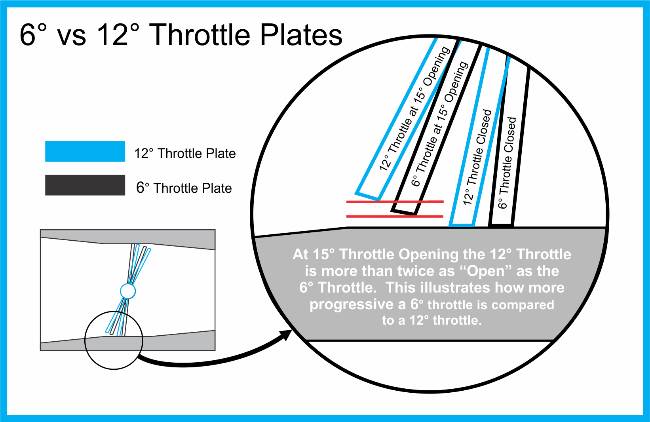 Butterflies are secured to centreless ground brass shafts and screws are loctited to ensure reliability and serviceability. All are fitted with bearings rather than bushes to eliminate axial shaft movement.
Low stiction bearings for sharp throttle response.