This Kit Suits the Nissan S13 SR20DE cylinder head.

Kit includes 2 x direct fit tapered bore throttle bodies 52/50/48, fuel rail and mountings, linkage, 4 x ram tubes and base

* note - fuel rail fittings not included in kit price but can be supplied on request
Fuel rail, linkages and ram tubes will be supplied anodized black unless requested.
Product Details
BOOSTED VS NATURALLY ASPIRATED:
We have lip seals behind the throttle shaft bearings to stop grease from being sucked out of the bearings under high intake runner vacuum. These are turned around on boosted applications so there is no boost leakage and also stops the bearing grease getting evacuated from the throttle shaft the bearings.
We ask you if you are going to run your engine Boosted, or Naturally Aspirated so we can install the Lip Seals in your throttle bodies in the appropriate way to suit your application.
FULLY ASSEMBLED VS SUB ASSEMBLED KIT:
We want to supply your Throttle Body Kit just the way you want it.
That's why we offer both Sub Assembled Kits, and Full Assembled Kits.
FULLY ASSEMBLED KIT:
By choosing the Fully Assembled Option above, you will receive:
- Each of your Throttle Bodies is precision factory assembled
- Throttle Shafts cut to correct lengths to suit your manifold
- Linkages are fitted and adjusted to ensure correct and smooth operation
Note: Although we will supply a great linkage fitment, final linkage adjustment
can only be carried out once the engine is running
- TPS "D" drive on the end of the shaft you stipulate so it's in the best position on your engine
- We may contact you with a few questions to ensure we supply the kit assembled to best
suit your application
SUB ASSEMBLED KIT:
By choosing the Fully Assembled Option above, you will receive:
- Each of your Throttle Bodies is precision factory assembled
- Throttle Shafts are left long so you can trim them to suit your engine and manifold
- Linkages are supplied for you to fit and adjust once you have trimmed your Throttle Shafts
---
KIT SUITS:
S13 SR20DE engine.

SR20 Pro-Race Throttle Body Kit Contains:
2 x Pro-Race Tapered Bore Throttle Bodies - Sizes 52/50/48
1 x Pro-Race single piece billet alluminium fuel rail kit
Pro-series 4 Cylinder Linkage Kit (Black) - Includes:

Joiner Balancer Cable Pull Throttle Stop - 6061-T6 Aluminium

4 x Pro-Series ram tubes (Black)
Choose Your TPS Option:
No TPS ( shaft will be supplied round with no prevision for a TPS)
Bosch style TPS, 3 pin junior timer connector (connector not supplied)
Motorsport Contactless Variohm TPS (reccomended with motorsport or high rev
Choose Your Injectors:

If you don't already have injectors, you can buy a set with Throttle Kit.
If you do not purchase injectors, the kit will be setup to suit a full height (60mm O-Ring - O-ring) 14mm O-ring injector
Here are flywheel horsepower ratings of each injector flow rate based on a naturally aspirated engine. For boosted engines please contact us to discuss:
4 x 354cc = 228HP on Pump Gas Total Engine Power
4 x 470cc = 304 HP on Pump Gas / 168HP on E85 Total Engine Power
4 x 646cc = 228 on E85 Total Engine Power (only recommended for race applications with dedicated E85 Tune)
Choose Your Air Filter Option:
There are three air filter options.
---
LINKAGE AND RAM TUBE COLOURS:
Due to overwelming demand from our customers, we are transitioning our standard colour from Blue to Black. Black is a classic colour, and goes with pretty much every engine bay colour and style.
This includes Ram Tubes, Linkages, Cable Pulleys, Drop Links, Bell Cranks, and more.
Don't worry if you love blue, you can still get your kit in blue. There will be a small premium of $40 per kit to cover us sending out your kit of parts to be anodized blue. If you would like blue anodizing, please let us know by typing in the notes area of your order.
---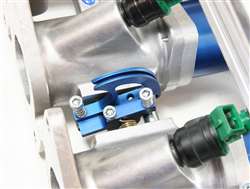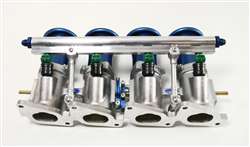 SR20 SCREAMER (Video):
Check out this video of an SR20 powered boat running a set of our SR20 ITB's.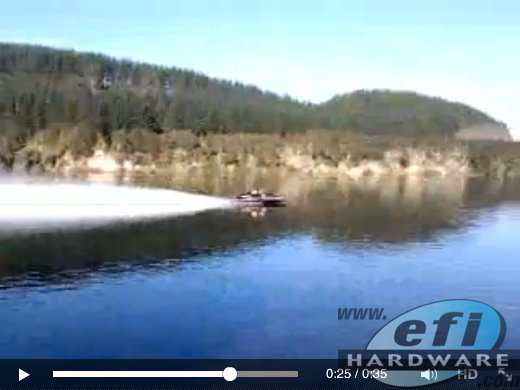 Midnight Run - SR20 with EFI Hardware Throttle Bodies
(Click the Video to play)
---
ACCESSORIES:
PART NUMBER
DESCRIPTION
IMAGE
H-MAPCOL4

4 Cylinder MAP Sensor Collector




If you are after great drivability with
great engine response, you should consider
using a MAP Sensor Collector for the ultimate
blend of power, throttle response and
tunability.



---
QUALITY ASSURANCE:
Every single throttle bore and throttle plate are measured and matched as a pair to ensure the most perfect throttle fit and consistency across every EFI Hardware throttle body.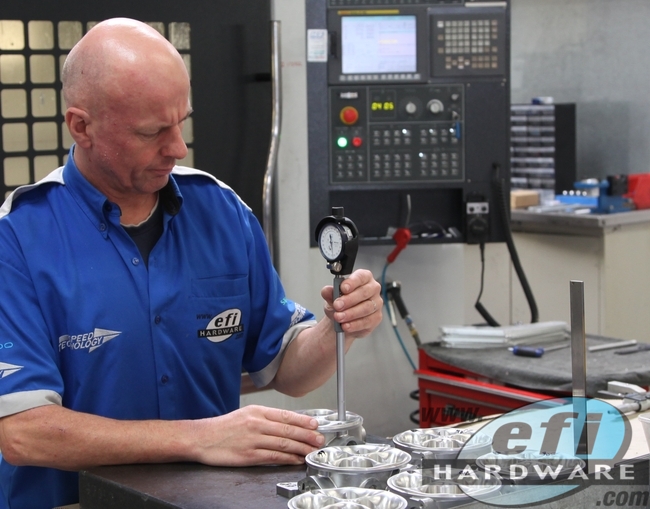 ---
TAPERED BORE THROTTLES



Tapered Bore Throttles have a clear advantage over Parallel Bore Throttles at increasing power and torque. By accelerating the air through a venturi (in this case a tapered bore) the air speed through the throttle body is increased. This enhances the engine cycle's scavenging effect to provide more air and fuel in the combustion chamber and therefore more power and torque.
The Tapered Bore has 3 sections:
Inlet from ram tube - 52mm
This then tapers down to a short parallel section for the throttle plate - 50mm
There is a second taper down to the outlet flange of the throttle body - 48mm
HP RATINGS
HP/kW Ratings vary from engine to engine. The power ratings given here are only a guide, and are not absolute power ratings. Engine power is determined by intake, exhaust, cylinder head design, camshaft design, compression ratio, fuel type and quality and many other factors.
50mm - 74HP/58KW* per throttle - with the tapered bore giving a potential for 5% above this figure.
*This number is a guide only and should be used in conjunction with real-world experience.
HIGH PERFORMANCE FUEL SYSTEM PLUMBING TECHNICAL DIAGRAM

Setting up your fuel system right the first time is easy if you follow the right instructions.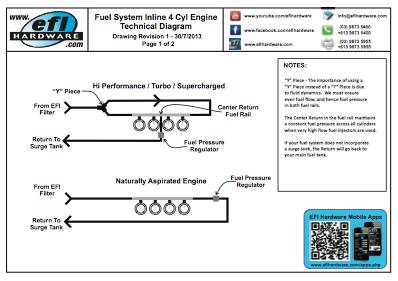 PROFESSIONAL GRADE MANUFACTURE
EFI Hardware produce 6° Throttle Plates.
In the past, 12° throttle plates were the industry standard. The problem with 12° throttle plates, is that as the plates are moved off the closed position, the change in airflow is huge. It makes it very difficult to drive smoothly at lower throttle openings.
At EFI Hardware, we only use 6° throttle plates. This improves off idle and cruise driveability making your vehicle far more enjoyable to drive.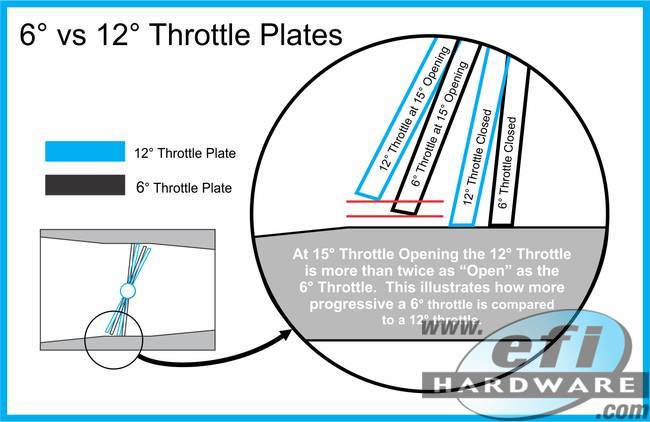 PROFESSIONAL GRADE MANUFACTURE
Manufactured from 601 Cast aluminum and heat treated before being CNC machined.
The butterflies are measured for each bore & precision machined to a 0.0005"" tolerance.
Butterflies are secured to centreless ground brass shafts with split screws to ensure reliability and serviceability.
All are fitted with bearings rather than bushes to eliminate axial shaft movement.
Low stiction bearings for sharp throttle response.
GETTING THE RIGHT BALANCE
The best idle and cruise quality will only occur when every throttle has exactly the same airflow.
The only way to achieve this is to adjust the linkages and/or idle bypass screws and use a tool to measure the airflow at each throttle.
Getting the right balance is not a should, it is a MUST.

We now recommend
and use SKF bearings.