HomeIntake HardwareIndividual Throttle Bodies4 Barrel



throttle body 4 barrel low profile
In Stock
Product Code: 802-045
$621.50
inc GST for Australian CustomersAUD $565.00 (ex GST)
for International Customers
315.87
GBP365.76
EUR607.13
NZD47,238.21
JPY440.82
USD
approximate only
Options:
1000 CFM EFI Throttle body.

Only 48mm tall with 4 x 45mm butterflies.

Primary/secondary opening - secondary opening @33%.

Provision for Delco stepper motor for idle control - throttle body is supplied with stepper motor port blanking plate. Other features include seals behind bearings, split screws secure butterflies for serviceability & suits spread bore and square bore fitment.

NOTE: TPS, Cable Pulley and Stepper Motor are Optional and not supplied with this 4 Barrel Throttle Body.
Details
QUALITY ASSURANCE:
Every single throttle bore and throttle plate are measured and matched as a pair to ensure the most perfect throttle fit and consistency across every EFI Hardware throttle body.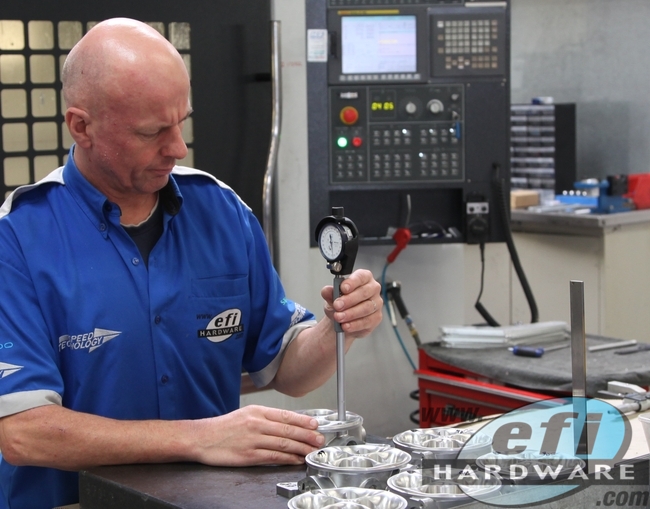 ---
Note: Does not include injectors, TPS, idle stepper motor, cable pull or hose fittings on end of fuel rails.

Use with Part # H-TPSD throttle position sensor kit.
AIR FILTER MOUNT: The Air Filter Mounting Flange Face is 127mm internal diameter and 137mm outside diameter. There is a central post hole that is 1/4"UNC thread and 18mm deep.
The Air Filter Mounting Flange is compatible with air filters designed to fit Holley and Rochester Carburetors.
VACUUM PORT: We have included a 1/4 BSPT port for you to draw vacuum from for your brake booster and other vacuum requirements.
We recommend Part # 811-066 Cable pulley to connect to your throttle cable.
---
Glen E – TAS - Australia
I bought a fuel injection system for my '67 Mustang with a stroked 302 boss motor.
The advice and support from day one was first class, as was all the follow-up to get on the road.
Thank you EFI Hardware for your part in this build - 480HP to the ground.
Some Engine Specs:
Dart Block
Scat Crank
Comp Cam 620 lift
ICE Ignition
CHI 3V Heads
EFI Hardware 1000 cfm low profile 4 Barrel Throttle Body
587cc Injectors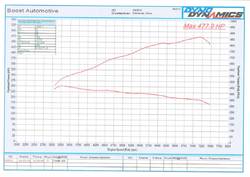 ---
Using the Cable Pulley with Opposite Link (811-066) on a 4BBL Throttle Body for Auto Transmission Kickdown:
One of the most common applications for the Cable Pulley with Opposite Link is when you run a 4 Barrel Throttle Body and an Automatic Transmission. If the Automatic Transmission uses a Kickdown Cable, you will need a way to control the Kickdown Cable.
One of the easiest ways to achieve this is to use the Opposite Link on the 811-066 and connect your Transmission Kickdown Cable directly to either of the two treaded holes on the Opposite Link.
You may need to try both holes to find the one that gives you the best control over the kickdown cable to give the most natural kickdown actuation. You may also need to adjust the amount of "takeup" on the cable before it goes tight to fine tune the kickdown actuation.
---
These are cast in Australia then CNC machined to precise tolerances, then assembled and quality checked before shipping by us at EFI Hardware in Melbourne. Unlike cheap imports that run through parent metal, the shafts on EFI Hardware throttle bodies run on bearings with lip seals behind and are fully serviceable.
EFI Hardware now produce 6° Throttle Plates.
In the past, 12° throttle plates were the industry standard. The problem with 12° throttle plates, is that as the plates are moved off the closed position, the change in airflow is huge. It makes it very difficult to drive smoothly at lower throttle openings.
At EFI Hardware, we only use 6° throttle plates. This improves off idle and cruise driveability making your vehicle far more enjoyable to drive.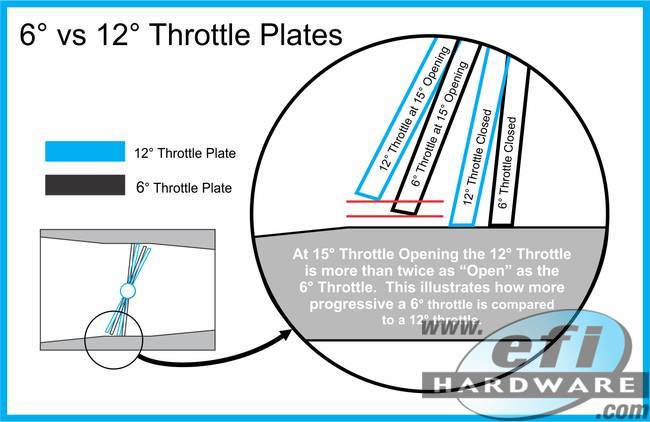 ---
BOOSTED VS NATURALLY ASPIRATED:
We have lip seals behind the throttle shaft bearings to stop grease from being sucked out of the bearings under high intake runner vacuum. These are turned around on boosted applications so there is no boost leakage and also stops the bearing grease getting evacuated from the throttle shaft the bearings.
We ask you if you are going to run your engine Boosted, or Naturally Aspirated so we can install the Lip Seals in your throttle bodies in the appropriate way to suit your application.
---

We now recommend
and use SKF bearings.