HomeIntake HardwareLinkagesPulleys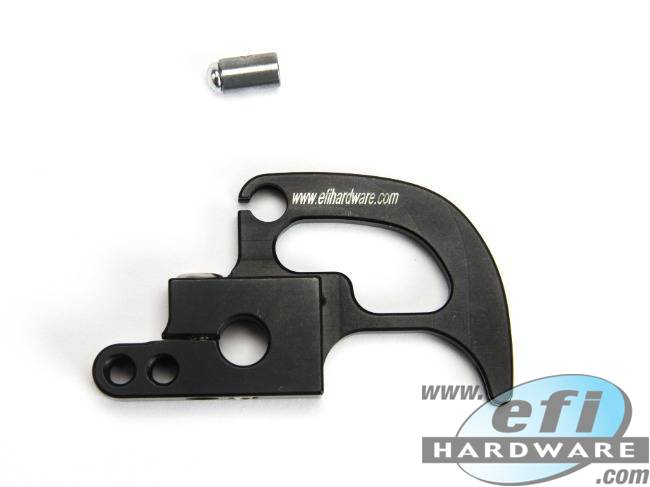 cable pull with opposite link
In Stock
Product Code: 811-066
$53.90
inc GST for Australian CustomersAUD $49.00 (ex GST)
for International Customers
27.66
GBP32.09
EUR52.56
NZD4,157.97
JPY39.21
USD
approximate only
Cable pulley for use on 8mm or 5/16" round shaft. incorporates a variable pitch cable pull for superb throttle control while still attaining full throttle and an opposing short arm ideal for auto kickdown cable connection.

Available in black anodizing only
Details
Using the Cable Pulley with Opposite Link on a 4BBL Throttle Body for Auto Transmission Kickdown:
One of the most common applications for the Cable Pulley with Opposite Link is when you run a 4 Barrel Throttle Body and an Automatic Transmission. If the Automatic Transmission uses a Kickdown Cable, you will need a way to control the Kickdown Cable.
One of the easiest ways to achieve this is to use the Opposite Link on the 811-066 and connect your Transmission Kickdown Cable directly to either of the two treaded holes on the Opposite Link.
You may need to try both holes to find the one that gives you the best control over the kickdown cable to give the most natural kickdown actuation. You may also need to adjust the amount of "takeup" on the cable before it goes tight to fine tune the kickdown actuation.
---
Video - Throttle Stop Fitment and Adjustment