HomeIntake HardwareManifolds and AdaptersAdapters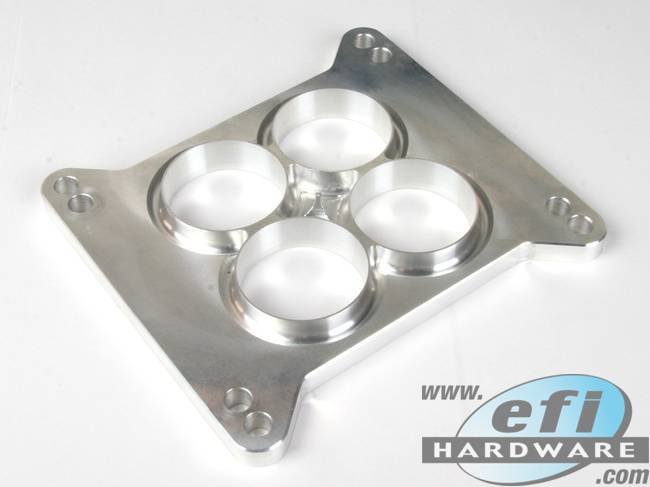 4 Barrel 1000 CFM Anti Reversion Plate
In Stock
Product Code: 802-009
$121.00
inc GST for Australian CustomersAUD $110.00 (ex GST)
for International Customers
55.86
GBP66.81
EUR114.98
NZD8,020.64
JPY72.61
USD
approximate only
Options:
Anti Reversion Plate suits Holley and Rochester Base Patterns on a Single Plane Manifold.

Each hole in the anti reversion plate is 45mm in diameter.

This product is designed to match our 1000 CFM 4 Barrel Throttle Body with part number 802-045(K)
Details
NOTE: This Anti Reversion Plate suits our throttle body 802-045 4 Barrel and 802-045K 4 Barrel Kit.
---
WHY DO I NEED AN ANTI REVERSION PLATE?
FIRST - LET'S TALK ABOUT WHAT REVERSION IS:
On a very standard engine with minimal intake valve duration, the intake valve closes before there is a lot of upward movement from the piston. This minimises any increase in pressure in the plenum chamber. In turn, there is generally stable vacuum in the engine's plenum chamber. This means that the air fuel mixture is pulled down, and held in the plenum before being pulled into the cylinders during each cylinder's intake stroke.
There is very little to no reversion present.
On an engine with a camshaft that has a lot of intake valve duration, the intake valve stays open long after the piston begins travelling back up the bore. This pushes air and fuel out of the cylinder, and into the plenum. If the throttles are fully open, some of this air and fuel is pushed up to and out through the throttle body sitting on top of the plenum.
Using an anti reversion plate is like putting a wall up against air and fuel that is travelling up the sides of the plenum. It reduces the overall amount of air and fuel that is able to escape from the plenum.
The more air and fuel you can keep inside the plenum, the more you will have to feed into the next cylinder on its intake stroke, and so on. This is almost like a low level supercharging effect, where some of the air and fuel that is rammed into the plenum at high speed, is captured, increasing the air pressure inside the plenum, and delivering more oxygen and fuel to each cylinder.