Home / Electrical Connectors and Plugs / Bosch electrical connectors
Bosch electrical connectors

EFI Engine Loom Connectors to suit vehicles using Bosch engine management.
Sort: Product NamePriceCode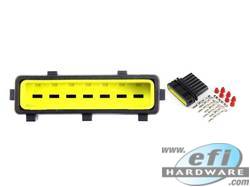 sku: H-MOD7CM
This 7 Pin Male Bosch Connector is a great way to make an extension loom to run a remote coil igniter or ignition system.
$22.00
(AUD, ex gst)
sku: H-MOD7C
This is a 7 pin connector from the Timer Junior family. Bosch Equivalent Part Number: 1 287 013 005
Bosch 7 pin plug, pin & boot kit for 7 pin igniters and Modules **Heavy Duty Gold Plated Terminals and High Quality Rubber Boot included.
Also Fits some 1980'S Japanese and European Air Flow Meters
$20.00
(AUD, ex gst)
sku: H-AFMC
Electrical connector for Nissan Z32 Air Flow Meter.
Includes housing, terminals, seals and rubber boot.
Nissan AFM Connector suits Z32 and some other 1980'S Air Flow Metwrs
$18.00
(AUD, ex gst)