HomeFuel System PartsFuel Rail Kits and Upgrades PartsFuel Rail Extrusion
Fuel Rail Extrusion - E-Series -8AN and Pro-Series -8AN and -10AN
In Stock
Product Code: E-825-0004
$24.20
inc GST for Australian CustomersAUD $22.00 (ex GST)
for International Customers
12.40
GBP13.52
EUR23.81
NZD1,661.17
JPY15.87
USD
approximate only
Options:
Pro-Series Fuel Rails are extruded from 6061 Aluminium with T6 temper.
E-Series Fuel Rails are extruded from 6060 with T5 temper.

Ideal for a professional solution for manufacturing fuel rails.

AVAILABLE LENGTHS: 400mm and 600mm

For custom lengths and volume orders, please inquire directly with us.
Details

For quantity discounts and custom rail lengths, please contact us for a quote.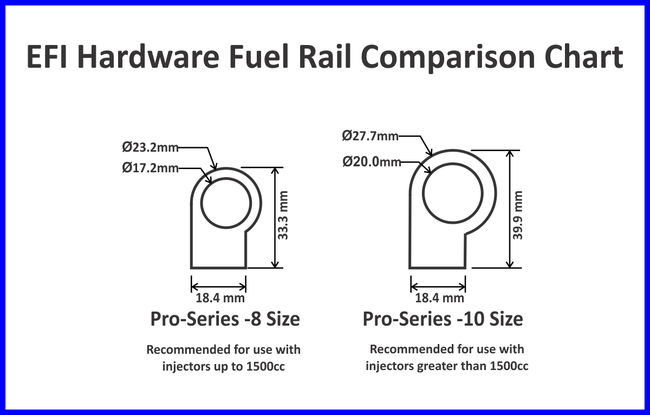 NOTE: The -10 Size Fuel Rail has 35% more fuel capacity than the -8 Size Fuel Rails.
---We can produce a complete custom fuel rail for you - See details below---

DATASHEETS:
ACCESSORIES:
Check out Steve's video on Solid Fuel Rails vs Split Fuel Rails.
There is a reason to choose one over the other depending on your application.