HomeFuel System PartsFuel Injectors, Bosch Fuel injectorsTop Feed 14mm O RingSiemens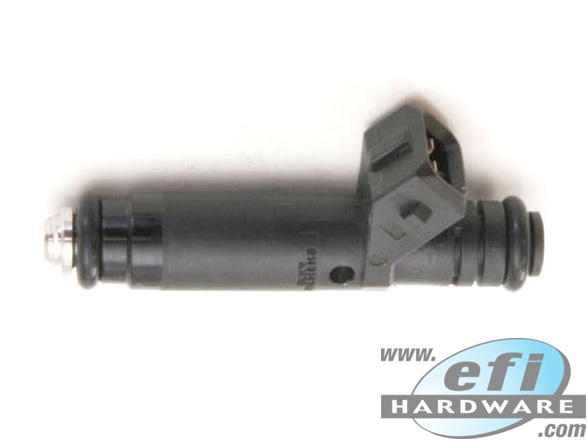 injector 63 lb/hr 646cc 14mm Siemens
In Stock
Product Code: 855-646H
$107.80
inc GST for Australian CustomersAUD $98.00 (ex GST)
for International Customers
55.50
GBP64.49
EUR107.77
NZD9,204.15
JPY68.07
USD
approximate only
  THIS INJECTOR IS E85 COMPATIBLE.  

104 HP Normally Aspirated - estimated (pump petrol)
87 HP Turbo up to 1 Bar Boost - estimated (pump petrol)
80 HP Turbo up to 2 Bar Boost - estimated (pump petrol)

> Flow Rate - 646cc/min (63Lb/Hr) @3.0Bar
> ORings - 14mm Top / 14mm Bottom
> Electrical Plug - Bosch Minitimer (Square)
> Impedance - 12.2 Ohm (High)
> Spray Pattern - 30 Degree Cone
> Manufacture - Siemens - Part Number FI114961
Details
NOTE: All Siemens Injectors come with a 12 Month Warranty.
We can modify these Injectors to suit a fuel rail that requires fuel injectors wth an 11mm top oring at a cost of $10 excluding GST per injector.

INJECTOR DATASHEET: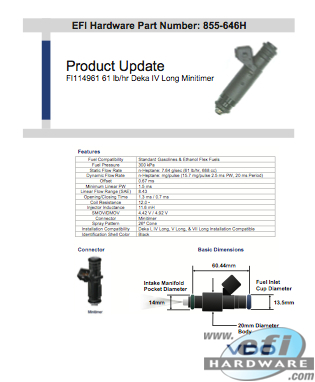 INJECTOR CONNECTORS TO SUIT:
Replacement injectors are only as good as the wiring, pins and plugs that supply current
and voltage to them.
This is an ideal time to check your injector plugs and pins for signs of pin corrosion, pins
splayed open and crumbling plastic connectors.
If in doubt, it can be cheap insurance to replace your injector connectors with brand new items to ensure positive electrical connections.