HomeElectrical / ElectronicsElectronicsDistributors - EFI8 Cylinder Electronic Distributors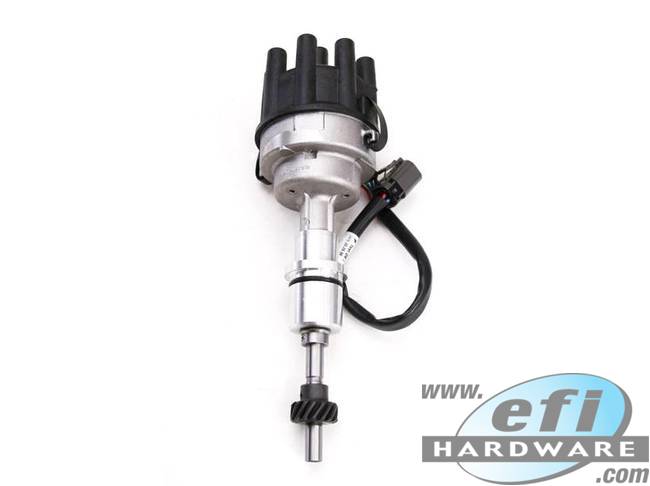 Ford 351 Cleveland Sequential Distributor - dual sensor
In Stock
Product Code: H-DISTCLEV351D
$770.00
inc GST for Australian CustomersAUD $700.00 (ex GST)
for International Customers
377.73
GBP420.62
EUR748.89
NZD49,917.78
JPY463.23
USD
approximate only
Options:
Ford Cleveland Dual Sensor Distributor for use with sequential engine management systems. Can be ordered with brass gear for roller cam applications.
Details
WHAT TYPE OF CAMSHAFT ARE YOU RUNNING?:
Before you purchase this distributor, is it important to note that there are 2 types of distributor drive gears:
Steel Gear - Used with Flat Tappet Camshafts
Sintered Bronze Gear - Used with Roller Camshafts
You must select the correct gear type before you place your order to ensure we supply your distributor with the correct type of drive gear.
3 DIFFERENT DISTRIBUTOR CAP TYPES - YOUR CHOICE:
It's important to have the right distributor cap type to suit your ignition system, and your manifolding and engine bay. That's why we offer 3 different solutions:
Standard Distributor Cap and Rotor Button
Machined Billet Aluminium Blanking Cap - for multicoil applications
Low Profile Cap and Rotor Button - to help with bonnet and intake system clearance
You must select the correct Cap type for your application before you place your order.
2 DIFFERENT TRIGGER CUP TYPES:
The triggering system for your ECU is critical to ensure accurate ignition timing. We provide 2 Trigger Cup options:
Standard Press Steel Trigger Cup
Machined Billet Steel Trigger Cup
The Machined Billet Steel Trigger Cup is machined in one piece from 1020 steel. It is far stronger than the pressed steel factory ones that can fatigue and break from high RPM or constant gear drive chatter.