HomeMotorsport SensorsPressure Sensors Connectors And AdaptersPressure Sensor Accessories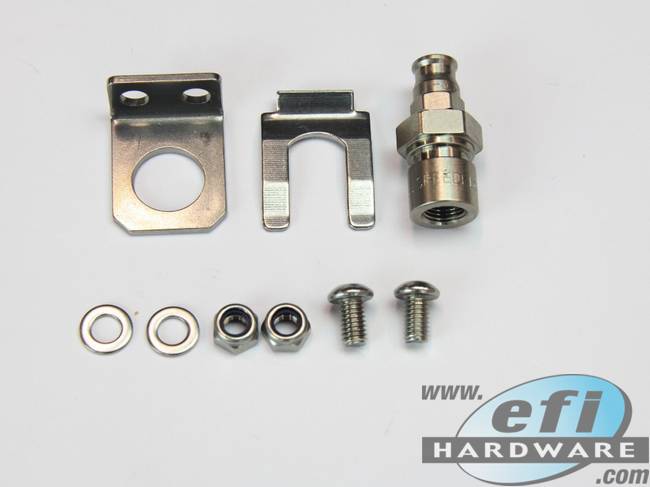 Single Bosch Pressure Sensor Mount
In Stock
Product Code: H-SEN-SMNT
$41.80
inc GST for Australian CustomersAUD $38.00 (ex GST)
for International Customers
22.00
GBP26.19
EUR41.93
NZD3,578.32
JPY26.67
USD
approximate only
Options:
Single Bosch Pressure Sensor Mount.
Suits 150psi & 2000psi Bosch pressure sensor with M10x1.0 thread
Details
Mounting Pressure Sensors directly to engine blocks can lead to premature failures to the sensitive internals. Harsh Vibrations, shock loads and heat are all enemies of the modern day pressure sensor. To prolong the life and reliability remote mounting sensitive pressure sensors is recommended to improve service life and reliability.
Ideal for High Reving engines or Race Cars and Boats that experience sustained high RPM, such as Ski Racing Boats, Rally Cars and Off Road Buggies.
Shock loads such as Drag Car Launches or Clutch Kicks in a Drift car are also known to damage sensors.
Perfect to neaten up wiring and plumbing, bringing all the sensor to one location cuts down on wiring.
Can be used for Engine Oil, Fuel Pressure, Coolant Pressure and Brake pressure.
Kit Options
Mounting kit only
Come complete with -3 Teflon hose end to M10x1.0 threaded adapter, retaining clip and stainless steel mounting bolts.
145psi Sensor
Includes Mounting kit, 145PSI Bosch pressure sensor and 3 pin electrical connector.
2000psi Sensor
Includes Mounting kit, 2000PSI Bosch pressure sensor and 3 pin electrical connector.
RELATED PARTS