HomeMotorsport SensorsPressure Sensors Connectors And AdaptersPressure Sensors By Pressure150 PSI Pressure Sensors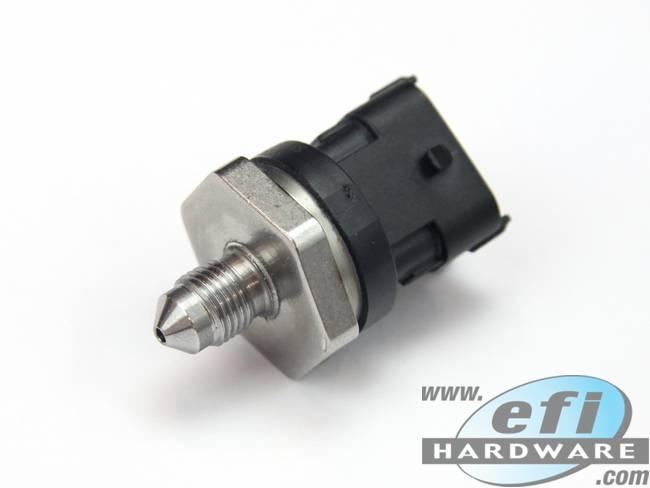 150 PSI / 10 Bar Bosch pressure Sensor
In Stock
Product Code: H-PS145G-B
$132.00

$115.50
inc GST for Australian Customers
$120.00

AUD $105.00 (ex GST)
for International Customers
64.36

56.32
GBP
75.24

65.84
EUR
132.02

115.52
NZD
11,278.45

9,868.65
JPY
80.91

70.80
USD
approximate only
Options:
Bosch PN 0 261 230 365
Compact Genuine Bosch 150 PSI / 10 Bar Pressure sensor. This pressure sensor is actually 145 PSI but is listed as an economical option to many of the common 150 PSI Sensors in the Honeywell, Ti and Variohm brands. Although it has to M10 x 1.0 Thread a Stainless Steel 1/8 NPT Adapter also available Part Number H-PS150-ADPT. This will allow fitment into a 1/8NPT threaded hole used by other sensor brands (note main catalogue photo has optional adapter fitted)

All Bosch High Pressure Sensors provide very reliable and accurate measurements and have extremely fast response times.
Details
KEY FEATURES:
Built in circuit protection to ensure your electronics and computer system stay unharmed. High reliability of pressure sensing proved in gasoline and diesel direct injection systems. Sturdy design vibration resistant and thermal stability.
Specifications:
Maximum Pressure: 145PSI Gauge Pressure (above atmospheric pressure)
Accuracy: < +/- 2% at 25- 85 degrees C
<5MS reaction time
Bosch Motorsport part number: 0 261 230 365
RELATED PARTS / TECHNICAL DOCUMENTS:
TOOLS: