HomeFuel System PartsFuel Pumps / Oil PumpsEFI Submersible Fuel Pumps
Walbro 450L/H High Pressure Version E85 Submersible Fuel Pump
Product Code: 866-800E-HP
$264.00
inc GST for Australian CustomersAUD $240.00 (ex GST)
for International Customers
133.00
GBP147.89
EUR251.78
NZD18,439.25
JPY177.24
USD
approximate only
Walbro 450 Or Walbro 460 HIGH PRESSURE VERSION
These Walbro fuel pumps are commonly referred to as a Walbro 450 or Walbro 460 fuel pump and are E85 compatible high-performance units.
E85, Flex Fuel and Gasoline compatible fuel pump that flows 450 L/Hr.
E85 - 800HP
Gasoline - 950HP
Manufacturer- Walbro PN F90000274
Details
Check out the diagram below showing how the 866-800E-HP outperforms the 866-800E above 85PSI fuel pressure.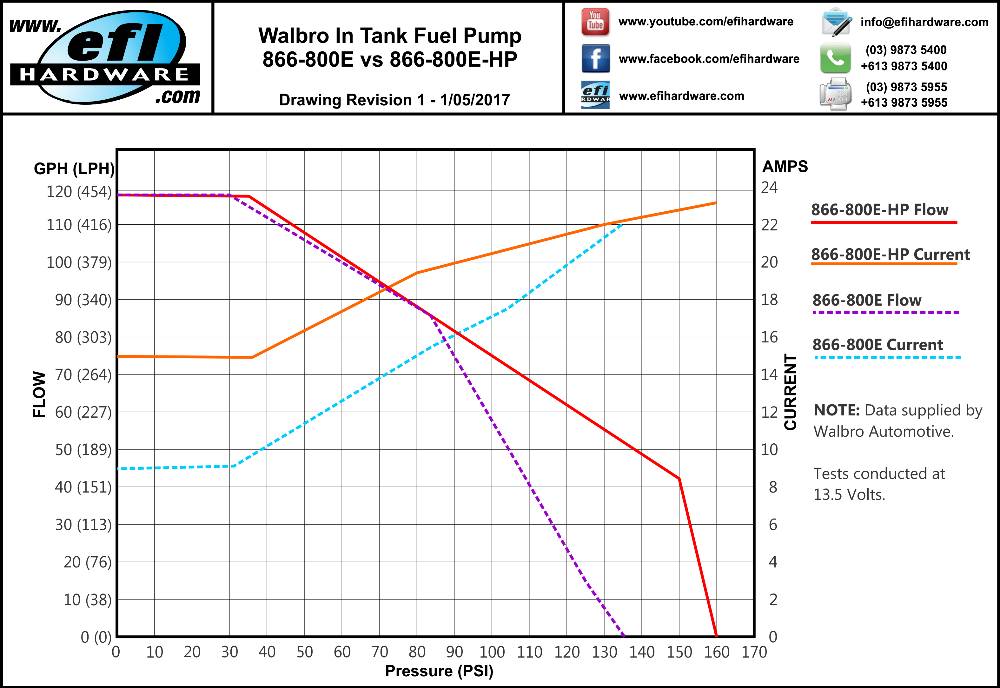 This is a hugely popular in-tank E85 compatible fuel pump capable of supplying 450 L/Hr.
This pump is great for E85, E10, Any Flex Fuel and Gasoline/Petrol.
Kit Contains:
1 x E85 Compatible Fuel Pump
1 x Fuel Proof Connector
1 x Filter Sock
INLET OD: 11.1mm
OUTLET: Suits 9mm (3/8") Hose
---
ENGINE POWER DELIVERY:
Different fuels and engine configurations change the amount of fuel required to produce a specific amount of engine power. The table below indicates most of the variations of fuels and engine setups. Choose the engine and fuel type that most accurately matches the engine set up in your vehicle.
NOTE: Most supercharger applications require a large amount of power to run the supercharger. Consult with your supercharger supplier for the amount of power your supercharger will consume and subtract that amount of power from the table below.
NOTE: All Power estimates are for 3 Bar of Fuel Pressure, and are HP and KW at the engine.
PETROL / GASOLINE
E85
Naturally Aspirated
1072HP / 799KW
Naturally Aspirated
800HP / 596KW
Up To 1 Bar Boost
839HP / 626KW
Up To 1 Bar Boost
615HP / 459KW
1 to 2 Bar Boost
775HP / 578KW
1 to 2 Bar Boost
548HP / 408KW
---
FUEL PUMP ACCESSORIES AND DATA SHEETS: