HomeMotorsport SensorsThrottle Position Sensors Kits and Parts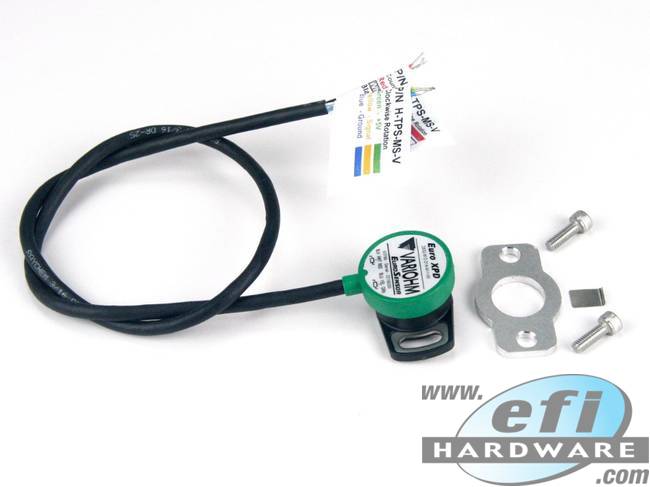 Contactless Throttle Position Sensor - Variohm
In Stock
Product Code: H-TPS-MS-V
$264.00
inc GST for Australian CustomersAUD $240.00 (ex GST)
for International Customers
123.59
GBP148.73
EUR251.17
NZD17,674.27
JPY160.62
USD
approximate only
Options:
Contactless Throttle Position Sensor for Clockwise & Counter Clockwise opening 8mm throttle shaft with "D" drive.

Resistive Type Throttle Position Sensors can take a reasonable amount of punishment. But, if you want to step up to the more robust sensor, a Contactless Throttle Position Sensor is by far the best way to go.

APPLICATIONS:
Contactless TPS for ITB
Contactless TPS for Rally Cars
Contactless TPS for Circuit Racing
Contactless TPS for Ski Boats
Contactless TPS for Weber Throttle Bodies ... and more
Details
The H-TPS-MS-V is supplied with a 470mm flying lead loom. You can choose to terminate the loom with a Deutsch DTM connector with either Gold Plated Solid terminals, or F-Crimp terminals.
TECHNICAL SPECIFICATIONS:
This is an active sensor. It supplies an output based on the throttle position. It has no mechanical stops - it can rotate 360 degrees. The technical document below explains how to set it up for both clockwise, and counter-clockwise applications.
Input Voltage: 5V
Sensor Output: 1.2V Nominal (Closed Throttle) to 4.2V Nominal (Open Throttle)
IP Rating: IP68
Throttle Shaft Detail: 8mm round shaft with a 6mm flat across the D
---
WHAT'S IN THE BOX:
H-TPS-MS-V:
1 X Contactless Throttle Position Sensor
1 x Mounting Spacer Plate and Screws
1 x D Shaft Shim Plate
H-TPS-MS-V-DTM-F:
1 X Contactless Throttle Position Sensor
1 x Mounting Spacer Plate and Screws
1 x D Shaft Shim Plate
1 x Deutsch 3 Pin DTM Connector Kit with F-Crimp Terminals
1 x Rubber Boot for DTM Connector
H-TPS-MS-V-DTM-G
1 X Contactless Throttle Position Sensor
1 x Mounting Spacer Plate and Screws
1 x D Shaft Shim Plate
1 x Deutsch 3 Pin DTM Connector Kit with Gold Plated Solid Terminals
1 x Rubber Boot for DTM Connector
H-TPS-MS-V Supplied without Connector - Throttle Body Not Included

H-TPS-MS-V-DTM-F
Supplied with DTM Connector and F-Crimp Terminals
H-TPS-MS-V-DTM-G
Supplied with DTM Connector and Gold Plated Solid Terminals
---
---