HomeIntake HardwareThrottle Body Injection KitRotary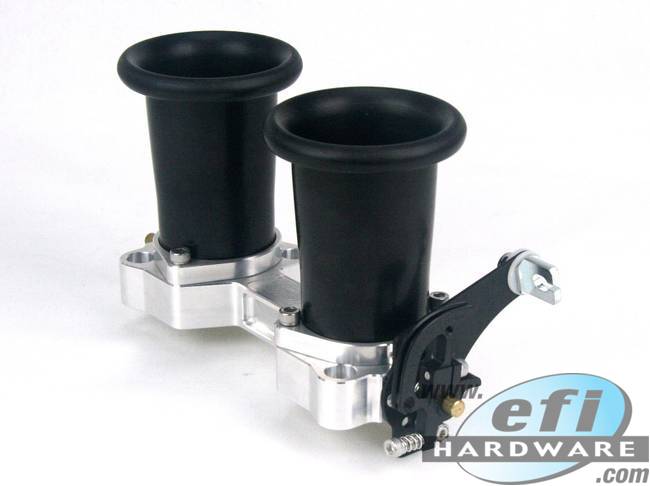 IDA Billet Throttle Kit 55mm - No Injector Ports
In Stock
Product Code: 801-940-HS
$786.50
inc GST for Australian CustomersAUD $715.00 (ex GST)
for International Customers
395.66
GBP456.39
EUR761.61
NZD58,728.87
JPY550.95
USD
approximate only
Options:
WHATS IN THE BOX:

1 x 55mm IDA Billet Throttle Block (No Injector Ports)
2 x Ram Tubes
1 x Cable Holder
1 x Cable Pulley with Idle and Full Throttle Stop
*1 x TPS (Optional) - See Product Options
Details
This is a great throttle for applications where you want to mount your injectors lower down in the intake runners instead of in the regular position in the throttle body.
THROTTLE BODY ORIENTATION:
The mounting flange on IDA - Rotary manifolds can be configured in 2 different ways. It is vitally important that you tell us which way around your manifold is configured to ensure we supply an IDA throttle body with the correct TPS location, cable actuation and opening direction. When ordering online please add this information to the comments section.
Check out the diagram below to confirm how your manifold is configured.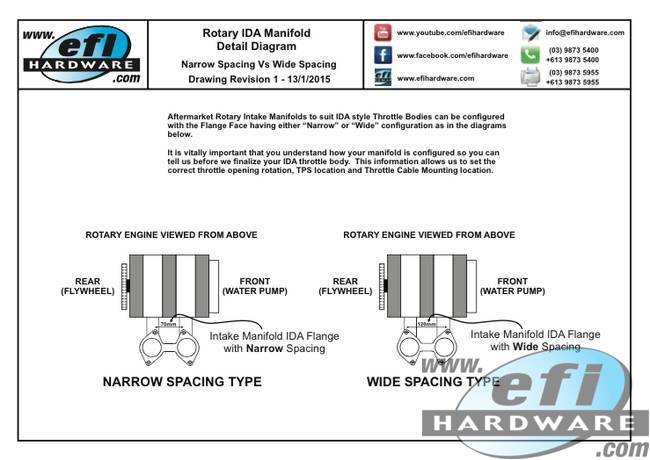 ---
LINKAGE AND RAM TUBE COLOURS:
Due to overwhelming demand from our customers, we are transitioning our standard colour from Blue to Black. Black is a classic colour, and goes with pretty much every engine bay colour and style.
This includes Ram Tubes, Linkages, Cable Pulleys, Drop Links, Bell Cranks, and more.
Don't worry if you love blue, you can still get your kit in blue. There will be a small premium of $40 per kit to cover us sending out your kit of parts to be anodized blue. If you would like blue anodizing, please let us know by typing in the notes area of your order.
---
---
QUALITY ASSURANCE:
Every single throttle bore and throttle plate are measured and matched as a pair to ensure the most perfect throttle fit and consistency across every EFI Hardware throttle body.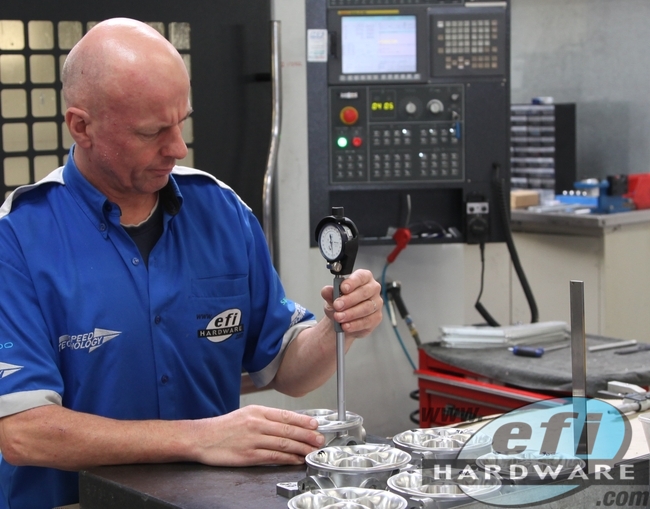 ---

EFI HARDWARE PRODUCE 6° THROTTLE PLATES:
In the past, 12° throttle plates were the industry standard. The problem with 12° throttle plates, is that as the plates are moved off the closed position, the change in airflow is huge. It makes it very difficult to drive smoothly at lower throttle openings.
At EFI Hardware, we only use 6° throttle plates. This improves off idle and cruise driveability making your vehicle far more enjoyable to drive.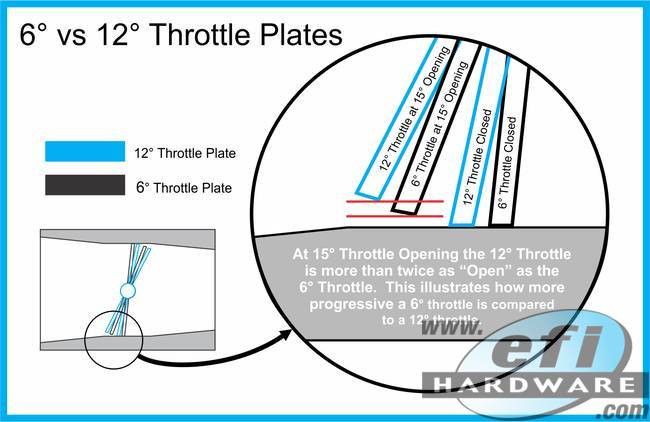 ---
BOOSTED VS NATURALLY ASPIRATED:
We have lip seals behind the throttle shaft bearings to stop grease from being sucked out of the bearings under high intake runner vacuum. These are turned around on boosted applications so there is no boost leakage and also stops the bearing grease getting evacuated from the throttle shaft the bearings.
We ask you if you are going to run your engine Boosted, or Naturally Aspirated so we can install the Lip Seals in your throttle bodies in the appropriate way to suit your application.
---