HomeFuel System PartsFuel Pumps & AccessoriesEFI External Fuel Pumps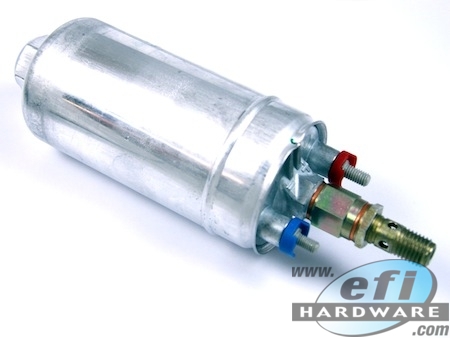 Bosch Fuel Pump 044 700HP
Product Code: 865-700
$297.00
inc GST for Australian CustomersAUD $270.00 (ex GST)
for International Customers
142.21
GBP164.30
EUR290.73
NZD25,880.56
JPY173.43
USD
approximate only
Options:
All variations of this product are currently out of stock.
Bosch are no longer producing the 044 fuel pump. If you find them elsewhere they are either imitations or old stock.

The superseded part number has approximately 10% more flow E85 compatible and 15% lighter.

Click here to see the new part number.
THIS FUEL PUMP IS E85 COMPATIBLE FOR 500HRS RUNNING TIME.
Genuine Bosch 044 Fuel Pump (Motorsport Rated).
M18 x 1.5 inlet 12x 1.5 outlet. Flows 276 Lph @ 3.0bar on 12.8 Volts drawing 11 amps.
Genuine Bosch Pump with Part Number 0 580 254 044, 0580254044, 3 165142 390222, 3165142390222
Details
Click here to see the new part number.
The Bosch 044 Fuel Pump is an icon in the performance and motorsport EFI Fuel Injection industry.

Capable of supplying up to 700HP on Pump Gasoline, this Genuine Bosch 044 fuel pump (Bosch Fuel Pump Part Number 0580254044) has been used in all forms of motorsport and performance modifications for over 10 years. This is a truly rock-solid pump.
---
ENGINE POWER DELIVERY:
Different fuels and engine configurations change the amount of fuel required to produce a specific amount of engine power. The table below indicates most of the variations of fuels and engine setups. Choose the engine and fuel type that most accurately matches the engine set up in your vehicle.
NOTE: Most supercharger applications require a large amount of power to run the supercharger. Consult with your supercharger supplier for the amount of power your supercharger will consume and subtract that amount of power from the table below.
NOTE: All Power estimates are for 3 Bar of Fuel Pressure, and are HP and KW at the engine. engine.
PETROL / GASOLINE
E85
Naturally Aspirated
700HP / 522KW
Naturally Aspirated
525HP / 392KW
Up To 1 Bar Boost
548HP / 409KW
Up To 1 Bar Boost
411HP / 307KW
1 to 2 Bar Boost
506HP / 377KW
1 to 2 Bar Boost
379HP / 283KW
---