HomeFuel System PartsFuel Pumps & AccessoriesEFI External Fuel Pumps
360LPH Bosch Fuel Pump 044 Replacement
In Stock
Product Code: 865-720
$264.00
inc GST for Australian CustomersAUD $240.00 (ex GST)
for International Customers
126.39
GBP145.96
EUR258.66
NZD23,011.11
JPY154.18
USD
approximate only
Options:
Production on the Bosch 044 fuel pump has now ceased.
This fuel pump kit is a direct replacement for vehicles which are currently setup for a 044
THIS FUEL PUMP IS E85 COMPATIBLE.
325LPH @ 5 BAR 12.5A
340LPH @ 4 BAR 11.7A
360LPH @ 3 BAR 10.5A
Genuine Bosch 0 580 646 200, , M18 x 1.5 inlet 12x 1.5 male outlet to suit banjo fitting (with supplied adapters fitted).
*** Please Note ***
When supplied out let fitting is not used the threaded outlet on the pump is M10 x 1.0 (original 044 pump a 12x 1.5 threaded hole)

Mount and fitting kit available also



Details
Fuel pump options
Bosch Fuel pump kit 0 580 464 200
Fuel Pump ,fitting & mount kit

Bosch Fuel pump kit 0 580 464 200
Billet insulated fuel pump bracket
-8 AN inlet fitting
-8 ORB outlet fitting (while retaining Bosch check valve)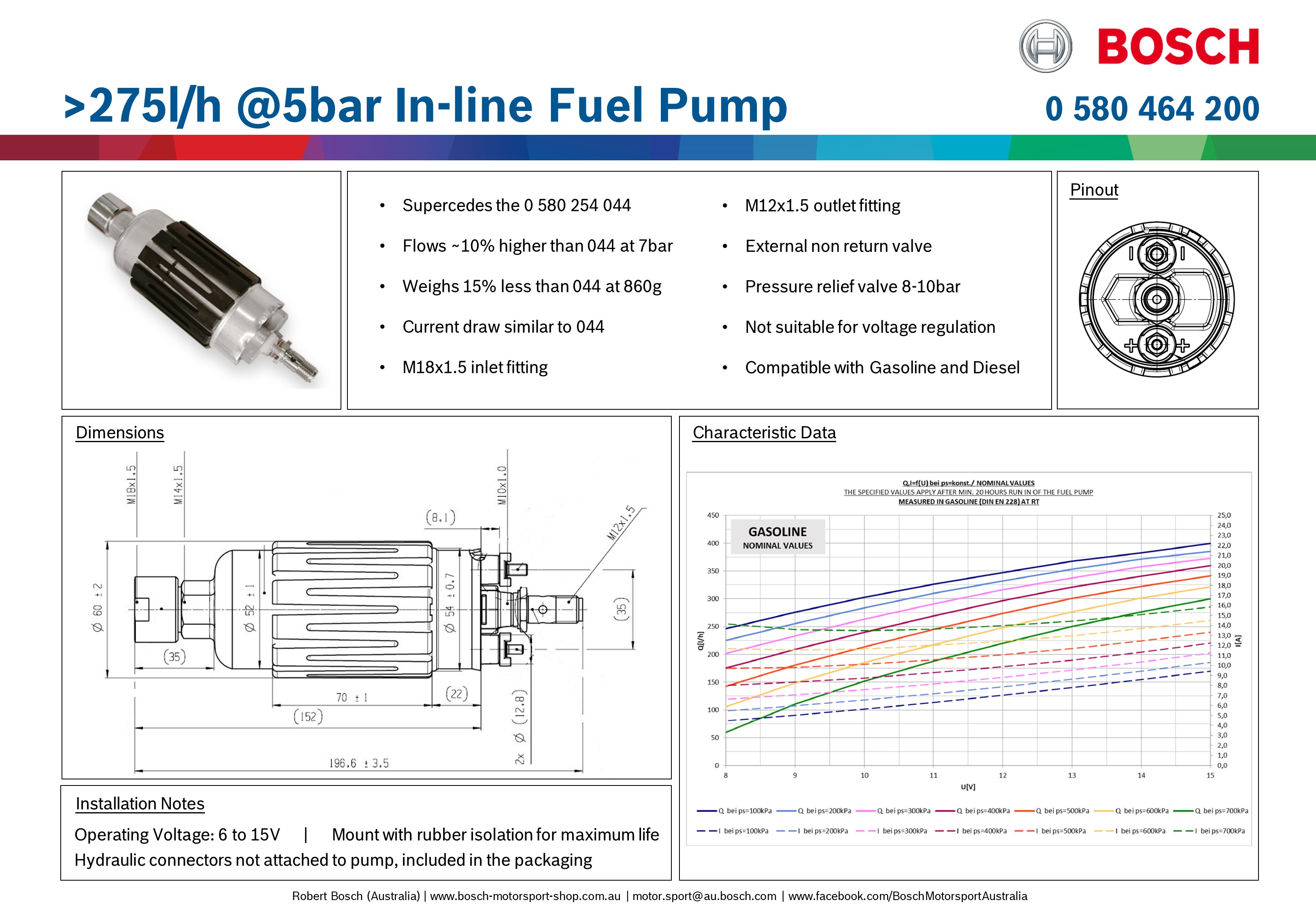 ENGINE POWER DELIVERY:
Different fuels and engine configurations change the amount of fuel required to produce a specific amount of engine power. The table below indicates most of the variations of fuels and engine setups. Choose the engine and fuel type that most accurately matches the engine set up in your vehicle.
NOTE: Most supercharger applications require a large amount of power to run the supercharger. Consult with your supercharger supplier for the amount of power your supercharger will consume and subtract that amount of power from the table below.
NOTE: All Power estimates are for 3 Bar of Fuel Pressure, and are HP and KW at the engine. engine.
PETROL / GASOLINE

E85

Naturally Aspirated

770HP / 574KW

Naturally Aspirated

577HP / 431KW

Up To 1 Bar Boost

602HP / 449KW

Up To 1 Bar Boost

452HP / 337KW

1 to 2 Bar Boost

556HP / 414KW

1 to 2 Bar Boost

416HP / 311KW