HomeIntake HardwareThrottle Body Injection KitRotary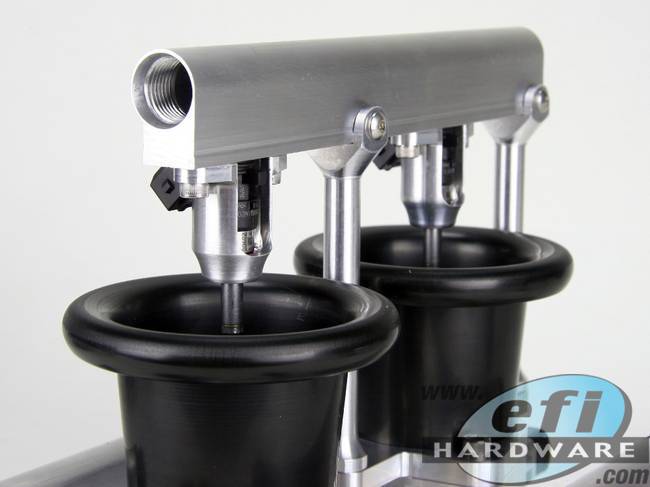 60mm IDA External Fuel Rail Kits
In Stock
Product Code: 801-360-FR1
$407.00
inc GST for Australian CustomersAUD $370.00 (ex GST)
for International Customers
207.08
GBP239.71
EUR397.37
NZD30,966.46
JPY288.63
USD
approximate only
This External Fuel Injector Rail is designed to mount on top of our 60mm Billet IDA Throttle Body - allowing you to mount 2 additional Hi Flow Fuel Injectors. (Note Injector must be 1/2 Height Type)

NOTE: This product does not include Ram Tubes, Throttle Body or Fuel Injectors. They are only included to give you an understanding of how this product mounts to a throttle body.
Details
WHAT'S IN THE BOX:
1 x IDA External Mount Fuel Rail - Machined to accept 2 x -8AN Oring Port fittings
and 2 x Injectors with 14mm Top Oring.
2 x 1/2 Height Fuel Injector Retainers to suit Injectors with 14mm Top
and Bottom Orings. We supply special Orings that must be used to replace
your injectors original Orings to ensure correct injector placement in the
bottom of the Injector Retainer/Mount.
2 x Fuel Rail Mounts and Fuel Rail Clevises.
2 x Ram Tube bases with mounts for fuel rail posts
Note :- $40.00 cheaper when order with throttle kit so the ram tube bases can be swapped over
NOTE:
1/2 Height Injectors are approximately 38mm from Oring to Oring
3/4 Height Injectors are approximately 52mm from Oring to Oring
---
Although this External Fuel Rail is designed to mount to our
60mm Billet IDA Throttle Body (link below), you could mount it
to another IDA throttle body, as it uses standard 120mm IDA
throttle bore spacing.