HomeIntake HardwareThrottle Body Injection KitRotary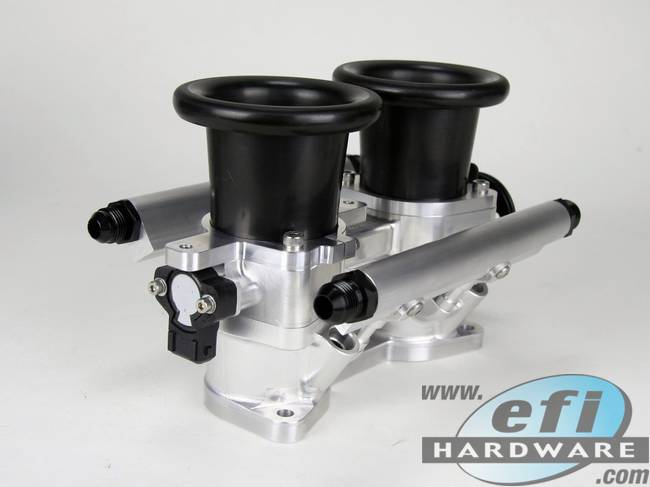 IDA 60mm Billet Throttle Body
In Stock
Product Code: 801-260
$2,420.00
inc GST for Australian CustomersAUD $2,200.00 (ex GST)
for International Customers
1,231.29
GBP1,425.32
EUR2,362.74
NZD184,124.88
JPY1,716.17
USD
approximate only
Options:
Billet IDA - 60mm Ram Tubes and Throttles with Tapered bore to 55mm at the manifold flange face.

-8 AN fittings Not included.

Ideal for E85 applications.
Details
New Release - 60mm Billet IDA Throttle Body
- Special size with 60mm butterfly with Taper Bore to 55mm at manifold flange.
- Ideal for Methanol applications.
- Manufactured from 5083 billet aluminium.
- All new Pro-Series Throttle Stop linkage with fully adjustable pulley for ultimate throttle control and actuation.
- Heavy duty quality Japanese bearings installed with lip seals behind.
- Black anodized parts are marine grade anodizing.
- Heavy duty 10mm throttle shaft
- Solid fuel rail mountings
- Optional external fuel rail kit with injector mounts.

---
WHAT'S IN THE BOX:
1 x IDA 60mm Billet Throttle Body Kit
2 x IDA Billet Low Mount Fuel Rails
2 x 60mm Pro Series Ram Tubes and Ram Tube Bases
1 x Pro Series Indexable Cable Pulley
OPTIONS:
* 1 x Weld On Aluminium IDA Manifold Flange: See Option
* 1 x TPS (Optional) : See Throttle Position Sensor Option
* 1 x High Mount Fuel Rail : See High Mount Fuel Rail Option
* Injectors : See Injector Options
NOT INCLUDED: Fuel Rail Fuel Fittings
---
BOOSTED VS NATURALLY ASPIRATED:
We have lip seals behind the throttle shaft bearings to stop grease from being sucked out of the bearings under high intake runner vacuum. These are turned around on boosted applications so there is no boost leakage and also stops the bearing grease getting evacuated from the throttle shaft the bearings.
We ask you if you are going to run your engine Boosted, or Naturally Aspirated so we can install the Lip Seals in your throttle bodies in the appropriate way to suit your application.
---
ACCESSORY PART NUMBERS:
801-360-FR1: 60mm IDA Top Fuel Rail Kit to suit 1/2 Height Injectors
801-360-FR2: 60mm IDA Top Fuel Rail Kit to suit 3/4 Height Injectors