HomeFuel System PartsFuel Rail Kits and Upgrades PartsFuel Rail Parts and Mounts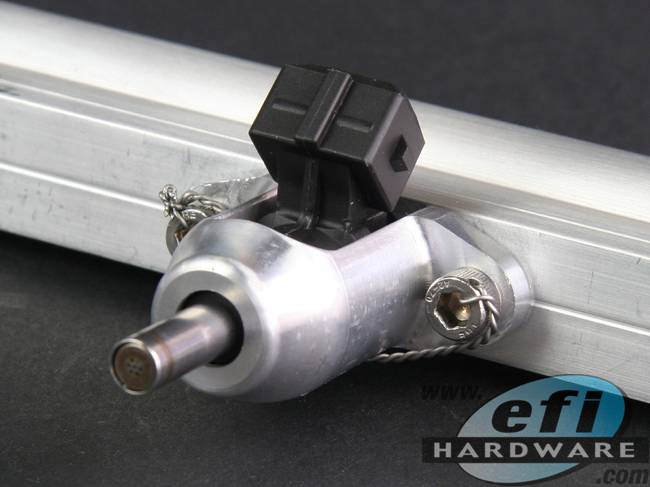 Billet External Injector Mount - Short
In Stock
Product Code: 825-030
$66.00
inc GST for Australian CustomersAUD $60.00 (ex GST)
for International Customers
33.09
GBP38.41
EUR64.38
NZD5,102.87
JPY46.65
USD
approximate only
You can use this mount to to mount Bosch EV14 1/2 height injectors.

Supplied with Special Oring to suit the Injector Mount.

Stainless Steel M5 Mounting Screws pre-drilled to receive lock-wire for added security.

NOTE: Fuel Rail Not Included
Details
NOTE: Must be used with Sequential ECU to ensure there is no *Fuel Reversion (Standoff).
* Although the air column entering your engine should only move towards each cylinder, there is a short period of time when the column comes to a stop, and then on some engine combinations, reverses direction for a very short period of time.
Fuel Reversion or Standoff, may occur during the time when the air column is moving away from the cylinder.
If the injector is open during this period, any fuel leaving the injector nozzle will be pushed away from the cylinder. If you have injectors sitting above the Ram Tube, and Reversion or Standoff occurs, this fuel may then be deposited on the inside of an air box, or anywhere nearby around the engine bay.
This is definitely a bad situation.
To ensure this does not occur, injectors placed outside of intake runners must only be opened as the air is being drawn into the engine. To achieve this effect, you must use an ECU capable of pulsing injectors placed outside of your intake runners sequentially.