HomeIntake HardwareIndividual Throttle BodiesIDA Type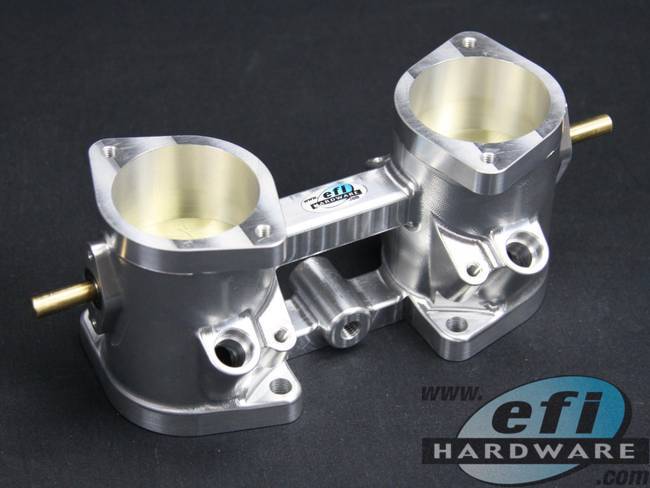 Billet PRO-RACE IDA 52/50/48 or 55/53/50 Tapered Bore Throttle Body
In Stock
Product Code: 801-250
$935.00
inc GST for Australian CustomersAUD $850.00 (ex GST)
for International Customers
481.60
GBP558.54
EUR938.71
NZD80,268.51
JPY591.59
USD
approximate only
Options:
Billet IDA Tapered Bore Throttle bodies, Available in 2 Sizes.
Tapered Bore Throttle bodies typically flow 5% more then a Parallel bore.

55/53/50 - 55mm at ram tube face, 53mm across the butterfly & 50mm at the manifold face.

or

52/50/47 - 52mm at ram tube face, 50mm across the butterfly & 47mm at the manifold face.

IDA throttle bodies feature 2 injector bosses per throat. Ram tube flanges are 70mm PCD .

M6x1 Vac port fitting blocked as standard, 6mm barb fittings available also.
Details
QUALITY ASSURANCE:
Every single throttle bore and throttle plate are measured and matched as a pair to ensure the most perfect throttle fit and consistency across every EFI Hardware throttle body.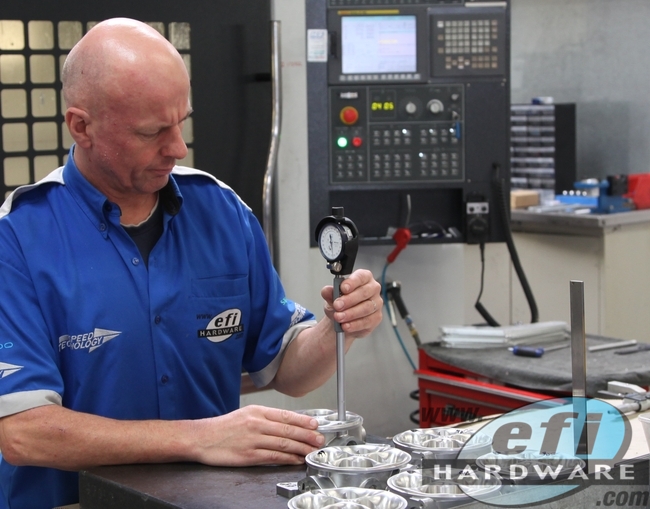 ---
BOOSTED VS NATURALLY ASPIRATED:
We have lip seals behind the throttle shaft bearings to stop grease from being sucked out of the bearings under high intake runner vacuum. These are turned around on boosted applications so there is no boost leakage and also stops the bearing grease getting evacuated from the throttle shaft the bearings.
We ask you if you are going to run your engine Boosted, or Naturally Aspirated so we can install the Lip Seals in your throttle bodies in the appropriate way to suit your application.
---
THROTTLE BODY TECHNICAL DRAWING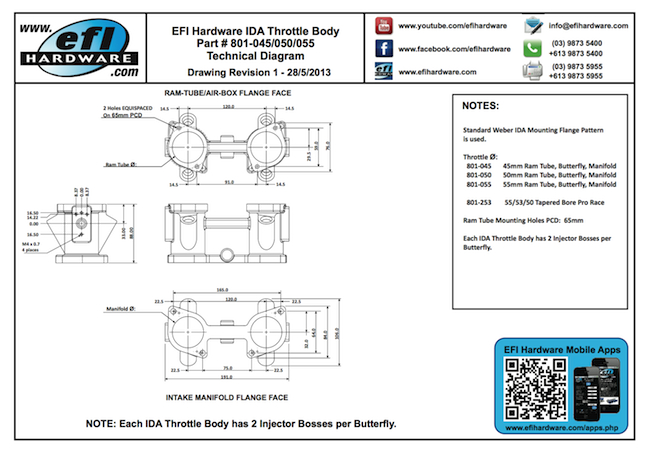 HP RATINGS
HP/kW Ratings vary from engine to engine. The power ratings given here are only a guide, and are not absolute power ratings. Engine power is determined by intake, exhaust, cylinder head design, camshaft design, compression ratio, fuel type and quality and many other factors.
52/50/47mm - 72HP/54KW* per throttle - with the tapered bore giving a potential for 5% above this figure.
55/53/50mm - 80HP/60KW* per throttle - with the tapered bore giving a potential for 5% above this figure.
*This number is a guide only and should be used in conjunction with real-world experience.
TAPERED BORE THROTTLES
Tapered Bore Throttles have a clear advantage over Parallel Bore Throttles at increasing power and torque. By accelerating the air through a venturi (in this case a tapered bore) the air speed through the throttle body is increased. This enhances the engine cycle's scavenging effect to provide more air and fuel in the combustion chamber and therefore more power and torque..

The Tapered Bore has 3 sections:
Inlet from ram tube - 52mm
This then tapers down to a short parallel section for the throttle plate - 50mm
There is a second taper down to the outlet flange of the throttle body - 47mm
EFI HARDWARE PRODUCE 6° THROTTLE PLATES
In the past, 12° throttle plates were the industry standard. The problem with 12° throttle plates, is that as the plates are moved off the closed position, the change in airflow is huge. It makes it very difficult to drive smoothly at lower throttle openings.
At EFI Hardware, we only use 6° throttle plates. This improves off idle and cruise driveability making your vehicle far more enjoyable to drive.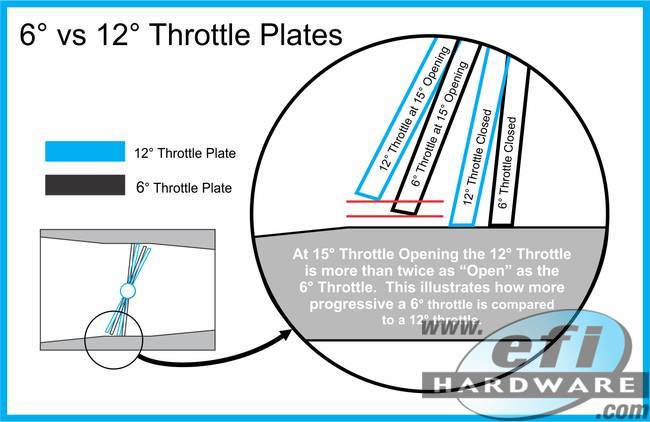 PROFESSIONAL GRADE MANUFACTURE
Manufactured from 6061 T6 Aluminium Billet CNC machined.
The butterflies are measured for each bore & precision machined to a 0.0005"" tolerance.
Butterflies are secured to centreless ground brass shafts with split screws to ensure reliability and serviceability.
All are fitted with bearings rather than bushes to eliminate axial shaft movement.
Low stiction bearings for sharp throttle response.
ROTARY SPECIFIC THROTTLE BODY ORIENTATION:
The mounting flange on IDA - Rotary manifolds can be confiured in 2 different ways. It is vitally important that you tell us which way around your manifold is configured to ensure we supply an IDA throttle body with the correct TPS location, cable actuation and opening direction.
Check out the diagram below to confirm how your manifold is configured.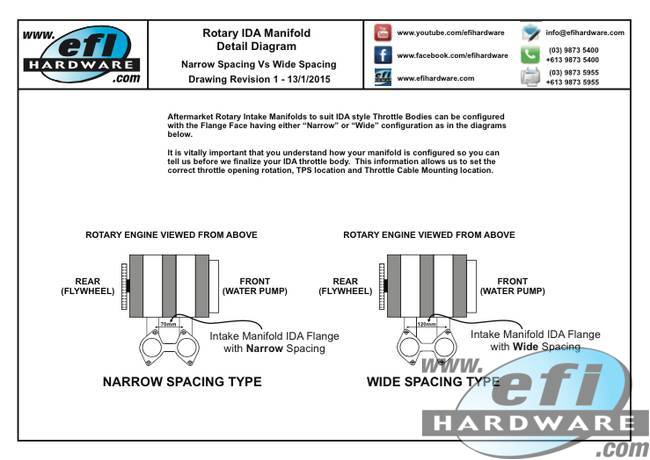 We now recommend
and use SKF bearings.