HomeIntake HardwareThrottle Body Injection KitRotary









PRO-STREET / PRO-RACE Rotary Kit Sizes 50mm/55mm and Billet Tapered Bore
In Stock
Product Code: 801-920
$1,765.50
inc GST for Australian CustomersAUD $1,605.00 (ex GST)
for International Customers
888.12
GBP1,024.89
EUR1,709.61
NZD131,850.09
JPY1,237.05
USD
approximate only
Options:
Weber IDA style Throttle Bodies with choice of 50mm & 55mm parallel bore size, or 55/53/50mm tapered bore with high flow shaft and fasteners. 55mm inlets have the option of special high flow profile ram tubes for extra power gains.

IDA throttle bodies are now BILLET!!

OPTIONS:
- Throttle Size and Type (parallel vs tapered bore)
- Ram Tubes
- Rotary Manifold
- Throttle Position Sensor
- Fuel Fittings
- UniFilters
- Fuel Injectors
- Vacuum and Oil Fittings

Details
PRODUCT OPTIONS INFORMATION:
Choose Your Manifold Type:
*** Note if ordering a manifold with your kit the rotary manifolds have the wide bolt spacing toward the engine***
We can supply the manifold to fit your new IDA throttle body to your rotary engine. Please ensure you choose the correct manifold to suit your engine. If you are not sure, contact us before you make your selection.
Choose Your Vacuum & Oil Fittings Option:
Vacuum Fittings - Ports to allow you to pull a vacuum signal from your manifold to use for your fuel pressure regulator or as a MAP input to your ECU. This option is machined into the manifold, and is only available if you purchase your manifold from EFI Hardware.
Oil Fittings - This option is machined into the manifold, and is only available if you purchase your manifold from EFI Hardware.
Choose Your Air Filter Option:
There are two air filter options.
No Air Filter
835-055 UniFilter Socks
Choose Your Injectors:

If you don't already have injectors, you can buy a set with your IDA Throttle Kit.
Here are flywheel horsepower ratings of each injector flow rate based on a naturally aspirated engine. For boosted engines please contact us to discuss:
4 x 550cc = 400HP on Pump Gas / 285HP on E85 Total Engine Power
4 x 646cc = 500HP on Pump Gas / 360HP on E85 Total Engine Power
4 x 1000cc = 750HP on Pump Gas / 540HP on E85 Total Engine Power
NOTE; Injector Connectors are not included please go here https://www.efihardware.com/products/c294/Injector-Connectors to find the right connectors.
Choose Your Manifold Gasket:
This refers to the gasket between the intake manifold and the intake port face on your engine.
Fuel Plumbing Kit:
The optional Fuel Plumbing Kit consists of:
4 x Fuel Rail to 5/16" Fittings
1 x EFI Fuel Hose to join one Fuel Rail to the other
4 x EFI Hose Clamps to suit the Fuel Hose above
IDA Mounting Orientation:
There are rotary manifolds where the wide bolt spacing on the IDA flange is closest to the engine block. On others, the narrow bolt spacing on the IDA flange is closest to the engine block.
If you are buying an IDA throttle body, and you already own a manifold, you must choose the correct orientation to ensure we send you an IDA throttle body that will fit your original manifold.
Throttle Position Sensor Option:

You will need a Throttle Position Sensor to run your engine on any engine management system. This throttle has a standard 8mm D drive on the throttle shaft and 32mm PCD M4 mounting holes. You may already have a TPS that will suit. If you are unsure, you should include this option with your purchase.
THROTTLE BODY ORIENTATION:
The mounting flange on IDA - Rotary manifolds can be configured in 2 different ways. It is vitally important that you tell us which way around your manifold is configured to ensure we supply an IDA throttle body with the correct TPS location, cable actuation and opening direction. When ordering online please add this information to the comments section.
Check out the diagram below to confirm how your manifold is configured.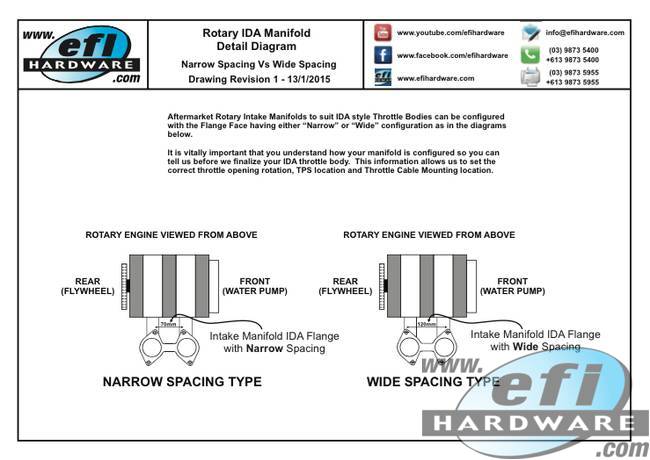 ---
LINKAGE AND RAM TUBE COLOURS:
Due to overwhelming demand from our customers, we are transitioning our standard colour from Blue to Black. Black is a classic colour, and goes with pretty much every engine bay colour and style.
This includes Ram Tubes, Linkages, Cable Pulleys, Drop Links, Bell Cranks, and more.
Don't worry if you love blue, you can still get your kit in blue. There will be a small premium of $40 per kit to cover us sending out your kit of parts to be anodized blue. If you would like blue anodizing, please let us know by typing in the notes area of your order.
---
---
QUALITY ASSURANCE:
Every single throttle bore and throttle plate are measured and matched as a pair to ensure the most perfect throttle fit and consistency across every EFI Hardware throttle body.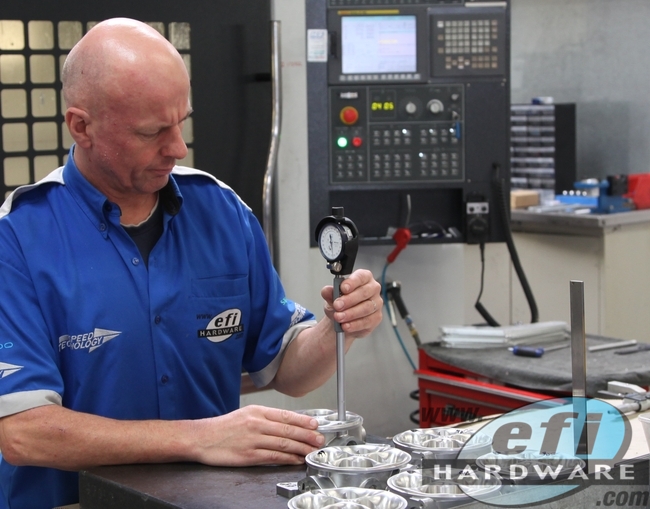 ---

EFI HARDWARE TAPERED BORE OPTION:

Our customers have experienced consistent torque gains using Tapered Bore Throttles over traditional Parallel Bore Throttles without a loss in engine power. This creates even more torque under the curve for better acceleration throughout the rev range of your engine.

---
EFI HARDWARE EXTRA FLOW RAM TUBES OPTION: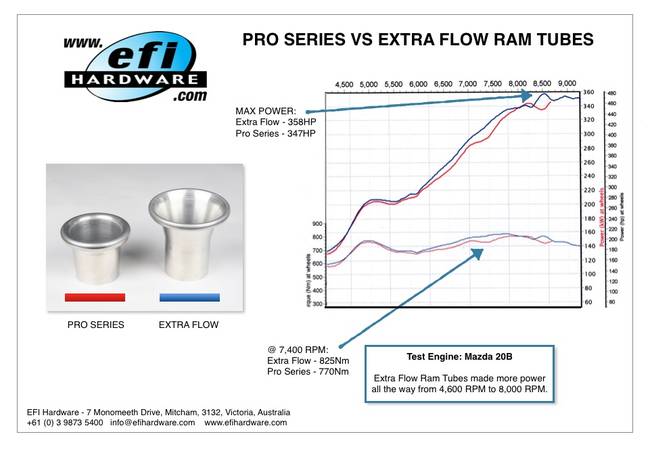 - CLICK IMAGE TO DOWNLOAD -
You can check out the Extra Flow Ram Tubes here
---
EFI HARDWARE PRODUCE 6° THROTTLE PLATES:
In the past, 12° throttle plates were the industry standard. The problem with 12° throttle plates, is that as the plates are moved off the closed position, the change in airflow is huge. It makes it very difficult to drive smoothly at lower throttle openings.
At EFI Hardware, we only use 6° throttle plates. This improves off idle and cruise driveability making your vehicle far more enjoyable to drive.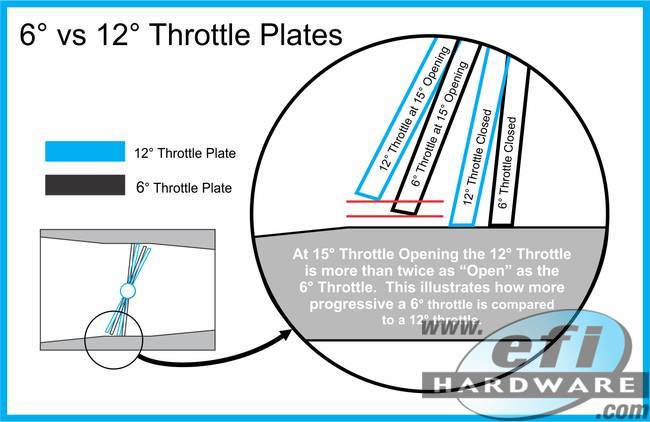 ---
BOOSTED VS NATURALLY ASPIRATED:
We have lip seals behind the throttle shaft bearings to stop grease from being sucked out of the bearings under high intake runner vacuum. These are turned around on boosted applications so there is no boost leakage and also stops the bearing grease getting evacuated from the throttle shaft the bearings.
We ask you if you are going to run your engine Boosted, or Naturally Aspirated so we can install the Lip Seals in your throttle bodies in the appropriate way to suit your application.
---

We now recommend and use SKF bearings.