HomeElectrical Connectors and PlugsHonda Connectors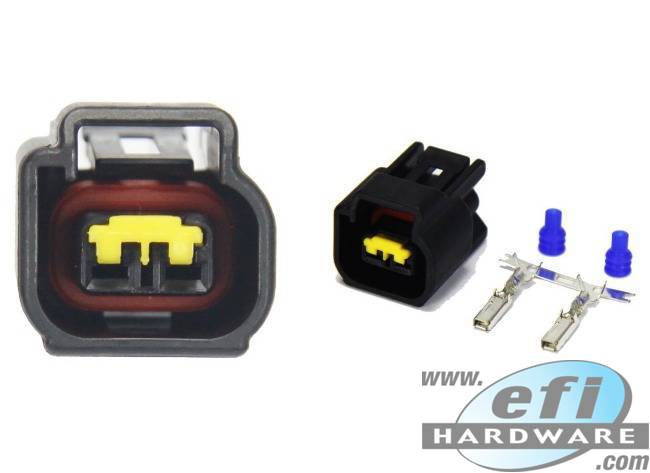 2 Pin Denso Coil Connector
In Stock
Product Code: C02F-0036
$17.60
inc GST for Australian CustomersAUD $16.00 (ex GST)
for International Customers
9.26
GBP11.03
EUR17.66
NZD1,506.66
JPY11.23
USD
approximate only
This Connector is supplied with Female Pins and Wire Seals.

APPLICATIONS:
-Denso Coil On Plug Connector
Suits many Japanese motor bike coil on plug connector, including:

Suzuki Hayabusa
Suzuki GSXR1000
Suzuki GSXR750
Kawasaki ZX10R
Kawasaki ZX12R
Kawasaki ZX14R
Ford Mustang V8 Modular Motor 2-Pin Ignition Coil
Details
SUITS:
Denso Ignition Coil Connector to suit various Japanese motorbikes
Yamaha YZF-R6
Yamaha YZF-R1
Yamaha YZF-450
Kawasaki ZX10R
Kawasaki ZX12R
Kawasaki ZX6P
Kawasaki ZX600
Kawasaki ZR750
Honda CBR600F4i
Honda CBR600RR
Honda CBR929
Honda CBR959
Honda CBR1000

The best way to ensure you get the right connectors, is to check your physical connector with the great photos we have included for each type of connector.
OEM Connectors - The connectors we keep are high quality reproduction connectors that fit perfectly to the original sensor / actuator. However the terminals to suit our connectors very often do not fit the original housings so unless we are sure we do not sell the terminals only to suit OEM connectors.