HomeElectrical Connectors and PlugsToyota electrical connectors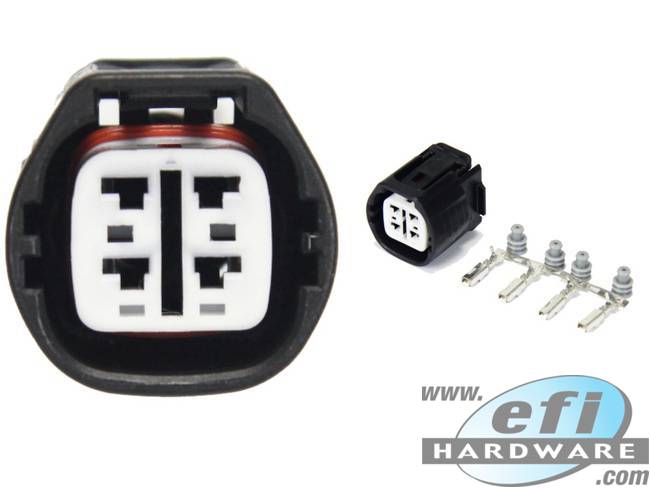 4 Pin Toyota Alternator Connector
In Stock
Product Code: C-04FR2-4-8-10
$24.20
inc GST for Australian CustomersAUD $22.00 (ex GST)
for International Customers
12.50
GBP14.56
EUR24.35
NZD2,062.96
JPY15.14
USD
approximate only
4 Pin Alternator Connector to suit various late model Toyota Models
Details
SUITS:
Many Late Model Toyota & Honda Alternator Connectors, Loom Side
Toyota Hiace 07>3.0L 1KDFTV
Toyota Hiace 05-07 2.5L 2KDFTV
Toyota Hiace 03-04 2.0L 1TRFE
Toyota Hiace 04> 2.7L 2TRFE
Toyota Hilux 02-05 3.0L 1KDFTV
Toyota Hilux 15> 2.5L 2KDFTV
Toyota Hilux 97-05 2.7L 3RZFE
Toyota Hilux 05-15 3.9L 1KTFTV
Toyota Hilux 15> 2.7L 2TRFE
Toyota Land Cruiser 98-07 4.5L 1FZFE
Toyota Land Cruiser 07-15 4.5l 1VDFTV
Toyota Land Cruiser Prado 06-15 3.0L 1KDFTV
Toyota Camry 06-12 1.0 1AZ-FE & 2.4 2AZ-FE

Honda Odyssey 09- 2.4 K24A
Honda Accord, Civic, CR-V & Element 2.0l K20. 2.4l K24
The best way to ensure you get the right connectors, is to check your physical connector with the great photos we have included for each type of connector.
OEM Connectors - The connectors we keep are high quality reproduction connectors that fit perfectly to the original sensor / actuator. However the terminals to suit our connectors very often do not fit the original housings so unless we are sure we do not sell the terminals only to suit OEM connectors.