HomeFuel System PartsFuel Injectors, Bosch Fuel injectorsDirect Fit Fuel Injector Kits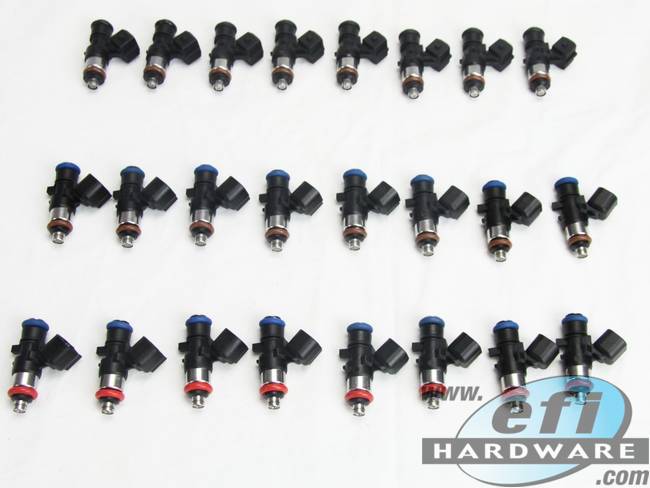 VE-VF 6.0L Injector Upgrades
In Stock
Product Code: 851-550s-8
$836.00
inc GST for Australian CustomersAUD $760.00 (ex GST)
for International Customers
421.98
GBP462.26
EUR823.08
NZD57,359.35
JPY542.91
USD
approximate only
Options:
Direct fit Fuel injectors kits for GM and Holden VE- VF 6.0L LS3 L98-L76 etc.
Options up to 1300hp and E85 compatible injectors.
Details
Direct fit fuel injector sets for VE-VF LS3, L98 &L77 Commodore 6.0L. Some of these kits utilize half height , unmodified injectors that use the same Bosch USCAR electrical connector so there is no need for an adapter loom. (excludes Bosch 1650cc injector kits, this kit includes a hard USCAR to Bosch Minitimer connector)
Depending on your Engines fueling requirements choose the recommended injector from the chart below. All calculations are based on 3 BAR of fuel pressure, and this only what horsepower the fuel Injectors can flow. All horsepower ratings are flywheel.
Naturally Aspirated
550cc-

609HP/ 455KW Naturally Aspriated on 98 Octane
731cc 947HP/ 706KW Naturally Aspirated on 98 Octane

OR 728HP/ 543 KW

Naturally Aspirated on E85

​1000cc 1295

HP/ 966K

W Naturally Aspirated on 98 Octane

​

OR 996HP/ 743 KW

Naturally Aspirated on E85
Turbo Charged
731cc 789HP/ 589KW @ 1 BAR of Boost on 98 Octane

1000cc

1061HP / 792 KW

@ 1 BAR of Boost on 98 Octane

OR 789 HP/ 589 KW

@1 BAR of boost on E85

1650cc 1723

HP /1286 KW @ 1 BAR of boost on 98 Octane

​

OR 1272/949kw

@1 BAR of boost on E85
If you cant see an injector that meets all your needs feel free to call or email us any time Info@efihardware