HomeFuel System PartsFuel Pumps / Oil PumpsEFI Submersible Fuel Pumps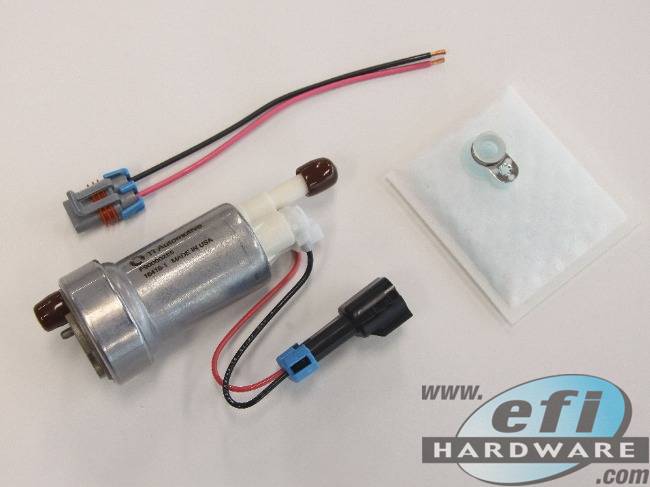 Walbro TI Automotive 525 Hellcat Fuel Pump
In Stock
Product Code: 866-800-HF
$275.00
inc GST for Australian CustomersAUD $250.00 (ex GST)
for International Customers
136.03
GBP150.50
EUR266.42
NZD18,659.74
JPY177.87
USD
approximate only
Genuine Submersible Walbro Fuel Pump Part Number F-90000285. Also known as the Walbro Hellcat Fuel Pump.
High Pressure High Flow.
The latest performance fuel pump from Walbro. 10% higher volume and pressure than the Walbro 460 pump. See attached chart and graph. Continues to flow high volume even at 120 PSI

Details
This is a hugely popular in-tank E85 compatible fuel pump capable of supplying 450 L/Hr.
This pump is great for E85, E10, Any Flex Fuel and Gasoline/Petrol.
Kit Contains:
1 x E85 Compatible Fuel Pump
1 x Fuel Proof Connector
1 x Filter Sock
INLET OD: 11.1mm
OUTLET: Suits 9mm (3/8") Hose
---
ENGINE POWER DELIVERY:
Different fuels and engine configurations change the amount of fuel required to produce a specific amount of engine power. The table below indicates most of the variations of fuels and engine setups. Choose the engine and fuel type that most accurately matches the engine set up in your vehicle.
NOTE: Most supercharger applications require a large amount of power to run the supercharger. Consult with your supercharger supplier for the amount of power your supercharger will consume and subtract that amount of power from the table below.
NOTE: All Power estimates are for 3 Bar of Fuel Pressure, and are HP and KW at the engine.
PETROL / GASOLINE
E85
Naturally Aspirated
1339HP / 999KW
Naturally Aspirated
1089HP / 812KW
Up To 1 Bar Boost
1000HP / 745KW
Up To 1 Bar Boost
825HP / 615KW
1 to 2 Bar Boost
935HP / 697KW
1 to 2 Bar Boost
767HP / 571KW
---
FUEL PUMP ACCESSORIES AND DATA SHEETS: