HomeElectrical Connectors and PlugsNissan electrical connectors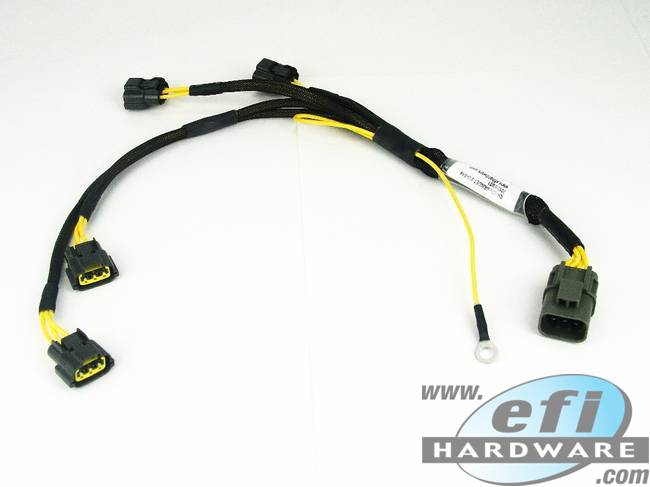 Nissan SR20DET S13 S14 Ignition Harness
In Stock
Product Code: CH-IGN-SR20DET-S13-S14
$165.00
inc GST for Australian CustomersAUD $150.00 (ex GST)
for International Customers
85.21
GBP99.30
EUR166.00
NZD14,065.66
JPY103.21
USD
approximate only
The CH-IGN-SR20DET-S13-S14 Performance Ignition Wiring Loom is an upgrade / replacement for the original ignition loom on the Nissan S13 or S14 SR20DET engine.

IMPORTANT:
- 24 month 40,000 KM Warranty (Terms and Conditions apply).
- Quality OEM Connectors
- Hi Temperature SG Silicon Wire Rated at 180 Degrees Celsius
- Turnkey Start Guarranteed (limited to this loom)
- Performance Version of Factory Original
- Factory Tested after Assembly
- Manufacturing Facility is Rated at ISO/TS16949

Note: This will not work on any other engine.

Details
The Nissan SR20DET S13/S14 Ignition Harness spends its life sitting on top of a very hot engine. And with the age of your car, and having gone through thousands and thousands of heat cycles, your engine's ignition harness can become brittle, and the terminals can lose their "bite".
Add to that, old harnesses are highly prone to corrosion, which increases resistance, which can lead to ignition misfires, reduced performance and other engine issues.
If you are experiencing any running issues, and you are having trouble tracking down the problem, an extremely cost effective way to "renew" a major component of your engine's ignition system, is to replace the old original ignition harness with a brand new premium spec harness.
This harness is manufactured in an ISO/TS16949 rated facility from Silicon Wire rated at 180 Degrees Celsius, and high quality connectors. You can be confident, that once you replace your old ignition harness with this one, you will have removed one of the most commonly faulty components in a Nissan SR20DET S13/S14 ignition system.
INDIVIDUAL CONNECTORS:
If you would prefer to make your own ignition harness, or simply re-terminate your original harness, we have many of the connectors used in this ignition harness.