This Toyota 2JZGE is designed to use your original fuel rail and fuel injectors.
Product Details
This Toyota 2JZGE kit is designed to bolt straight to the head of your Toyota 2JZGE head. It also fits 2JZGE vvti version
It is not compatible with the 2JZGTTE.

FULLY ASSEMBLED KIT:
- DCOE Manifold is 1 piece billet aluminium
- Each of your Throttle Bodies is precision factory assembled
- Throttle Shafts cut to correct lengths to suit your manifold
- Linkages are fitted and adjusted to ensure correct and smooth operation
Note: Although we will supply a great linkage fitment, final linkage adjustment
can only be carried out once the engine is running
- We may contact you with a few questions to ensure we supply the kit assembled to best
suit your application
NOTE: This kit does not contain a Throttle Position Sensor, Fuel Injectors, or a Fuel Rail.
---
Multipoint Fuel Injection - is the preferred method of fuel delivery, with injectors at each cylinder port. Using an appropriate ECU and Distributor you can run your V8 in sequential injection mode, gaining lower fuel consumption and better drivability than batch fire fuel injection.
TOTAL LENGTH: 215mm - from top of the Velocity Stack to Intake Port Flange.
TPS Mounting and Drive - uses an 8mm shaft with 6mm across the "D". The mounting holes PCD for the TPS is 32mm.
---
ACCESSORIES:
PART NUMBER
DESCRIPTION
IMAGE
H-MAPCOL6

6 Cylinder MAP Sensor Collector




If you are after great drivability with
great engine response, you should consider
using a MAP Sensor Collector for the ultimate
blend of power, throttle response and
tunability.



---
6° THROTTLE PLATES
In the past, 12° throttle plates were the industry standard. The problem with 12° throttle plates, is that as the plates are moved off the closed position, the change in airflow is huge. It makes it very difficult to drive smoothly at lower throttle openings.
6° throttle plates improve off idle and cruise driveability making your vehicle far more enjoyable to drive.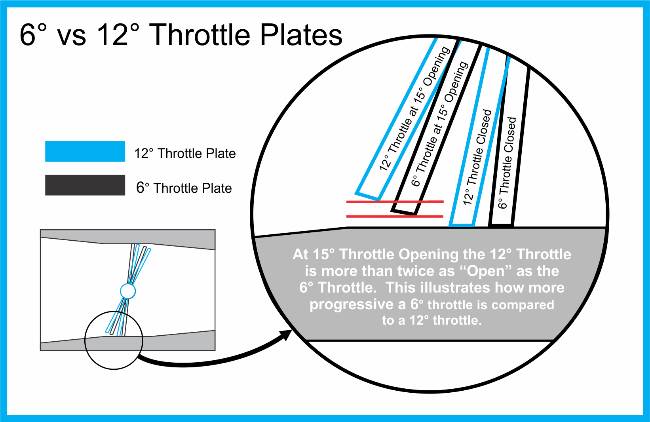 Butterflies are secured to centreless ground brass shafts and screws are loctited to ensure reliability and serviceability. All are fitted with bearings rather than bushes to eliminate axial shaft movement.
Low stiction bearings for sharp throttle response.