HomeFuel System PartsFuel Injectors, Bosch Fuel injectorsFuel Injector Height Adaptors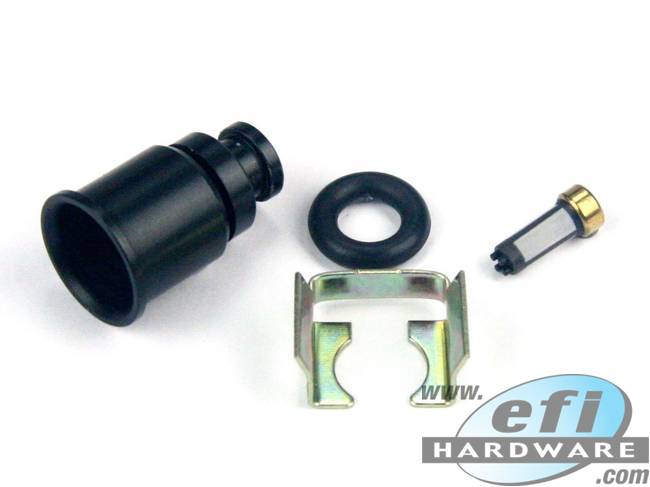 Injector Height Adapter - 1/2 Height to 3/4 Height 14mm Oring
In Stock
Product Code: 851-050-075-14
$13.20
inc GST for Australian CustomersAUD $12.00 (ex GST)
for International Customers
6.66
GBP7.28
EUR12.98
NZD902.17
JPY8.54
USD
approximate only
This 1/2 Height to 3/4 Height Injector Height Adapter has been specifically designed to convert 1/2 height injectors (38.5mm Oring Centre) with 14mm top orings into the correct length to replace 3/4 height (53.5mm Oring Centre to centre) injectors with 14mm top orings. This version fits to the top of the injector

Details
WHATS IN THE BOX:
1 x 1/2 Height to 3/4 Height Injector Height Adapter (14mm to 14mm)
1 x Injector Adapter Retaining Clip
1 x High Flow Injector Filter Basket
1 x 14mm Oring
WHY IS THIS SO IMPORTANT?
In the past, people have been using short injector adapters to increase the length of 3/4 height injectors to full height. And that's great, but if you use the same injector height adapters to convert 1/2 height injectors to 3/4 height, you may end up with a problem.
Full Height Injector: 64mm
Difference: 11mm
3/4 Height Injector: 53mm
Difference: 15mm
1/2 Height Injector: 38mm
The 1/2 to 3/4 Height Adapter are 4mm longer than the 3/4 to Full Height Adapter.
You can see that if you use the wrong injector height adapter you can end up a little short, or your fuel rail might be pressing down and binding on your injector. Either situation is not optimum.