HomeMotorsport SensorsCam-Crank-Speed Sensors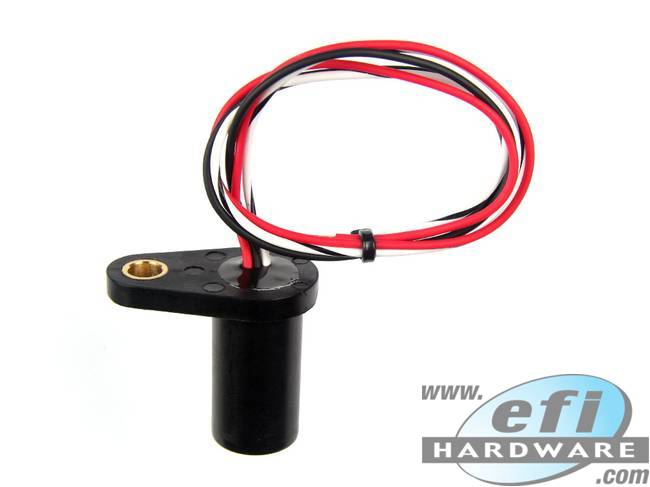 Hall Effect Crankshaft Sensor - High RPM Version - H-GTSEN2
In Stock
Product Code: H-GTSEN2
$143.00
inc GST for Australian CustomersAUD $130.00 (ex GST)
for International Customers
68.47
GBP79.08
EUR140.15
NZD12,474.96
JPY83.55
USD
approximate only
Options:
Ideal for 36-1 Trigger Wheels and applications with teeth that are close together.


Minimum Voltage: 4.75V
Maximum Voltage: 24V
Maximum Output Current: 20mA
Maximum Tooth Frequency: 15kHz
Minimum Temperature: -40 C
Maximum Temperature: 125 C
Maximum Air Gap: 1mm-5mm Depending on Supply Voltage
Minimum Trigger Wheel Width: 2mm
Minimum Tooth Width: 2mm
Minimum Tooth Gap Width: 2mm
Minimum Tooth Gap Depth: 2mm

This uses the same body dimensions as the Honeywell GT101 Sensor.
Details
ABOUT THIS SENSOR:
Hall Effect crankshaft or camshaft position sensor. These have been tested
with 6.75″ and 8.25″ 36-1 trigger wheels and get a rock solid reading at
over 19,200 RPM. Runs off 5 to 24 volts, and gives a nice square wave so
there's no variable voltage issues. Has a 12 inch long, 3 wire pigtail.

Here's what the wires do:
◾Red – Supply voltage 5 to 12 V.
◾White – Output signal.
◾Black – Ground.

Specifications:
◾Operating voltage: 4.75 to 24 volts
◾Maximum overvoltage and reverse voltage: +27 to -25 volts
◾Maximum output current: 20 mA
◾Maximum frequency: 15 kHz
◾Temperature range: -40 to +125 degrees C
◾Maximum air gap: 5 mm
◾The trigger wheel must be at least 2 mm wide, the teeth and gaps at least 2
mm wide, the gaps at least 2 mm deep and it must be made from a ferrous metal
such as mild steel.