HomeElectrical Connectors and PlugsToyota electrical connectors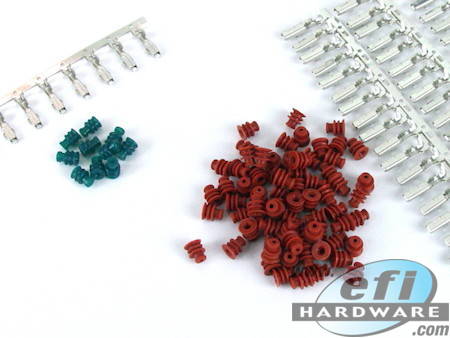 Toyota EFI Pin Kit 1
In Stock
Product Code: C-TOYPIN-KIT1
$88.00
inc GST for Australian CustomersAUD $80.00 (ex GST)
for International Customers
44.43
GBP48.93
EUR86.62
NZD6,052.86
JPY57.36
USD
approximate only
You need to replace a heap of connectors on your favorite 3SGE, 3SGTE, 1UZ, or other Toyota engine.

But, you can't find all of the connectors you need.

We've found the 2 types of pins that are used in up to 90% of Toyota engine sensors and devices.

You can now renew the electrical connections on your engine for a fraction of the cost of finding and buying every connector on your engine.
Details
WHAT'S IN THE BOX:
70 x The most common pins and seals.
10 x The less common pins and seals.
NOTE 1: There will be a few connectors on your engine that these pins do not suit, as it's extremely difficult to determine every sensor, and actuator connector on every engine type and model of vehicle.
NOTE 2: If you run short of either of these pins, let us know, as we want to ensure that you have enough pins to do the job.