HomeIntake HardwareThrottle Body Injection Kit8 Cyl Stack InjectionGM/Chev 8 Cylinder Throttle Body Kits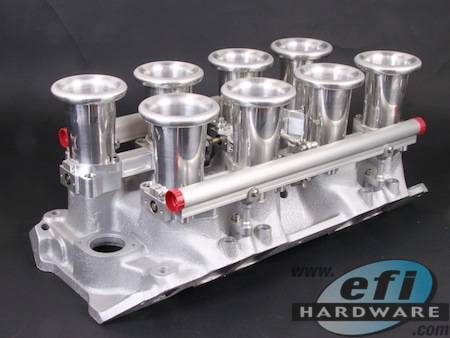 E-Series Chev Big Block V8 Stack Injection System
In Stock
Product Code: 800-982CHEVBB-SA
$4,394.50
inc GST for Australian CustomersAUD $3,995.00 (ex GST)
for International Customers
2,189.53
GBP2,419.55
EUR4,380.91
NZD305,408.85
JPY2,865.33
USD
approximate only
Options:
Details
HP RATING:
We rate our 50mm V8 Stack and Cross Ram kits at 580HP - 600HP.
This, of course, does not mean that your engine will make that much power, but so long as the rest of the engine and tuning is up to it, this kit can support up to between 580HP and 600HP.
---
FULLY ASSEMBLED VS SUB ASSEMBLED KIT:
We want to supply your Throttle Body Kit just the way you want it.
That's why we offer both Sub Assembled Kits, and Full Assembled Kits.
FULLY ASSEMBLED KIT:
By choosing the Fully Assembled Option above, you will receive:
- Each of your Throttle Bodies is precision factory assembled
- Throttle Shafts cut to correct lengths to suit your manifold
- Linkages are fitted and adjusted to ensure correct and smooth operation
Note: Although we will supply a great linkage fitment, final linkage adjustment
can only be carried out once the engine is running
- TPS "D" drive on the end of the shaft you stipulate so it's in the best position on your engine
- We may contact you with a few questions to ensure we supply the kit assembled to best
suit your application
SUB ASSEMBLED KIT:
By choosing the Fully Assembled Option above, you will receive:
- Each of your Throttle Bodies is precision factory assembled
- Throttle Shafts are left long so you can trim them to suit your engine and manifold
- Linkages are supplied for you to fit and adjust once you have trimmed your Throttle Shafts
---
Note - This kit is designed to be used with Rectangular Port Cylinder Heads (not Cathedral Port Heads).
Multipoint Fuel Injection - is the preferred method of fuel delivery, with injectors at each cylinder port. Using an appropriate ECU and Distributor you can run your V8 in sequential injection mode, gaining lower fuel consumption and better drivability than batch fire fuel injection.
TPS Mounting and Drive - uses an 8mm shaft with 6mm across the "D". The mounting holes PCD for the TPS is 32mm.
---
LINKAGE AND RAM TUBE COLOURS:
Due to overwhelming demand from our customers, we are transitioning our standard colour from Blue to Black. Black is a classic colour, and goes with pretty much every engine bay colour and style.
This includes Ram Tubes, Linkages, Cable Pulleys, Drop Links, Bell Cranks, and more.
Don't worry if you love blue, you can still get your kit in blue. There will be a small premium of $40 per kit to cover us sending out your kit of parts to be anodized blue. If you would like blue anodizing, please let us know by typing in the notes area of your order.
---
ACCESSORIES:
PART NUMBER
DESCRIPTION
IMAGE
H-MAPCOL8

8 Cylinder MAP Sensor Collector




If you are after great drivability with
great engine response, you should consider
using a MAP Sensor Collector for the ultimate
blend of power, throttle response and
tunability.



---
6° THROTTLE PLATES
In the past, 12° throttle plates were the industry standard. The problem with 12° throttle plates, is that as the plates are moved off the closed position, the change in airflow is huge. It makes it very difficult to drive smoothly at lower throttle openings.
6° throttle plates improve off idle and cruise driveability making your vehicle far more enjoyable to drive.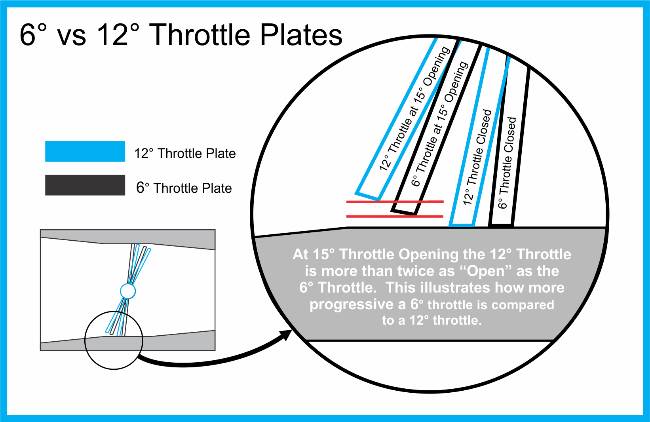 Butterflies are secured to centreless ground brass shafts and screws are loctited to ensure reliability and serviceability. All are fitted with bearings rather than bushes to eliminate axial shaft movement.
Low stiction bearings for sharp throttle response.