HomeIntake HardwareLinkagesJoiners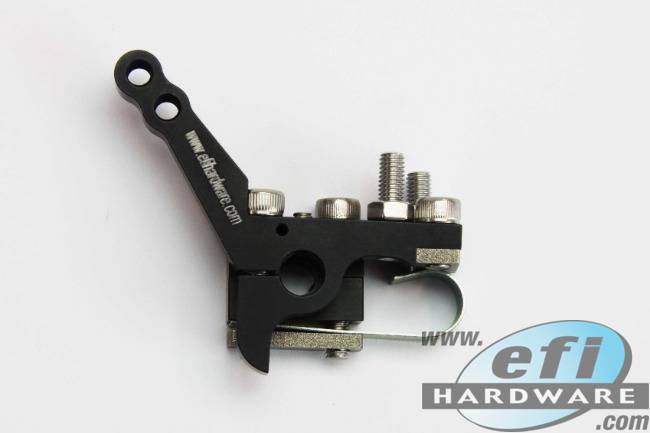 Joiner Balancer Pro - With Arm
In Stock
Product Code: 811-082
$220.00
inc GST for Australian CustomersAUD $200.00 (ex GST)
for International Customers
113.27
GBP131.61
EUR219.93
NZD18,783.98
JPY138.92
USD
approximate only
Lever Arm Length from Shaft Center to M5 Threaded Lever Holes: 39mm, 47mm.
(M5 threaded holes also suits 10/32UNF)

Overall Width: 16mm

Only available in Black anodizing.

Distance between the throttle bodies with the return spring fitted 28mm minimum and with out the return spring fitted 18mm minimum is required.
Details
FUNCTIONS:
Finely Balances 2 adjacent Throttle Shafts
Adjustable Idle Stop
Full Throttle Stop
Lever Arm ( 2 ratios ) to receive throttle input from Drop Link
KIT CONTAINS:
1 x Joiner Balancer with Lever Arm
1 x Return Spring
1 x Short Throttle Stop and Screw - 3mm Long
1 x Long Throttle Stop and Screw - 10.7mm Long
NOTE: This Joiner Balancer Throttle Linkage can be user configured for left or right hand operation by simply flipping over the stainless steel tag that couples both halves of the linkage together.
---
---
If you are uncertain that the spring supplied with this kit is going to the best fit for your throttle system, or you'd just like to have a couple of extra options, grab a couple from the links below: