HomeElectrical Connectors and PlugsWiring and AccessoriesIn-Tank Wiring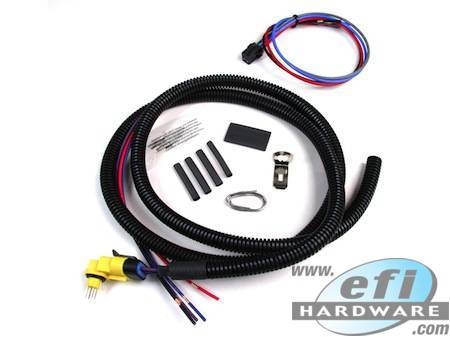 Submersible 4 Circuit Wiring Harness, Bulkhead fitting Connectors
In Stock
Product Code: 866-035
$132.00
inc GST for Australian CustomersAUD $120.00 (ex GST)
for International Customers
67.99
GBP78.85
EUR132.52
NZD11,332.02
JPY83.52
USD
approximate only
THIS CONNECTOR SET IS E85 COMPATIBLE.
In Tank Submersible EFI Fuel Pump and Fuel Level Sensor Harness.

This product is E85 Compatible.
Details
PRODUCT DETAILS:
Manufacturer: Packard
Number of Terminals: 4
Current Capacity: 14 amps per Circuit
INSTALLATION INSTRUCTIONS:
Determine the best position on your fuel tank for the yellow connector, allowing you to plug in the black 4 pin (4x1) plug once your fuel tank is in place.
Drill a 10mm hole in the wall of the tank in this location.
Apply the supplied grease to the oring on the yellow connector before mounting it to the fuel tank.
The yellow plug sits on the outside of the fuel tank and is clipped into position on the tank by the silver metal clip from the inside of the tank.
The black 4 pin (2x2) connector and wire is designed specifically to live inside the fuel tank and clips to the 4 male pins that are now protruding into the tank from the yellow plug.