HomeElectrical / ElectronicsElectrical Switches / Circuit BreakersCircuit Breakers & Fuses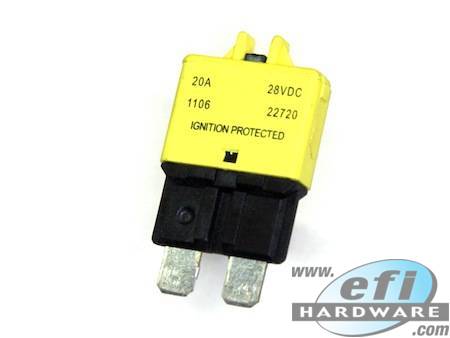 Circuit Breaker - Blade Fuse Type - 20A
In Stock
Product Code: H-CB227-20
$13.20
inc GST for Australian CustomersAUD $12.00 (ex GST)
for International Customers
6.82
GBP7.96
EUR13.29
NZD1,126.12
JPY8.27
USD
approximate only
Manual reset Circuit Breaker.
Trip Current: 20A
Rated to IP67
Standard Blade Fuse Replacement
Details
This Circuit Breaker is a great upgrade to a standard Blade Fuse fuse box.
- You won't have to buy replacement Blade Fuses any more.
- Simply push in the button to reset (button has a shield against accidental reset).
- Super Fast Diagnostics. Because the reset switch pops up, you can instantly see which Circuit Breaker has popped.
This may be the difference between being stationary for minutes, or back in the race within seconds.
Available Current Ratings:
Part Number
10A - H-CB227-10
15A - H-CB227-15
20A - H-CB227-20
25A - H-CB227-25
30A - H-CB227-30