HomeElectrical / ElectronicsElectrical Switches / Circuit BreakersCircuit Breakers & Fuses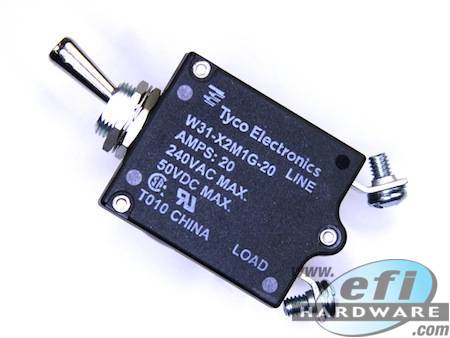 Circuit Breaker - Switchable (Toggle) - 20A
In Stock
Product Code: H-CBW31-20
$60.50
inc GST for Australian CustomersAUD $55.00 (ex GST)
for International Customers
31.13
GBP36.10
EUR60.74
NZD5,186.86
JPY38.21
USD
approximate only
Switchable (Toggle) Circuit Breaker.
Trip Current: 20A
Details
This is a Toggle Switch incorporating a 20A circuit breaker, removing the need for a separate Circuit Breaker ( or Fuse ) and the additional wiring that would be required.
Super Fast Diagnostics because you can see which Circuit Breaker Toggle Switch has moved.
This may be the difference between being stationary for minutes, or back in the race within seconds.
Resetting tripped Circuit Breakers often means getting out of the drivers seat. You can reset this Circuit Breaker right from the driver's seat.