HomeMotorsport SensorsPressure Sensors Connectors And AdaptersPressure Sensor Accessories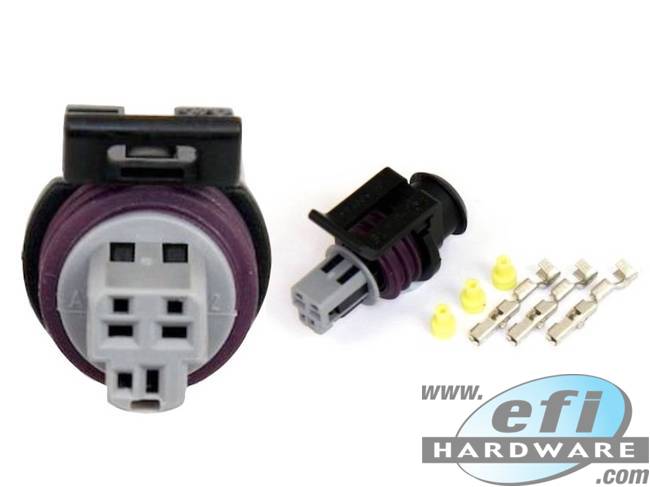 3 Pin Pressure Sensor Connector For TI and Honeywell Pressure Sensors
In Stock
Product Code: C03F-0004
$15.40
inc GST for Australian CustomersAUD $14.00 (ex GST)
for International Customers
7.37
GBP8.51
EUR15.09
NZD1,342.31
JPY8.99
USD
approximate only
Bulk Pricing:
| | |
| --- | --- |
| 1+ | $14.00 |
| 10+ | $11.20 |
| 20+ | $10.50 |
| 30+ | $9.80 |
This is a Premium Quality Motorsport Series Connector For TI and Honeywell Pressure Sensors. Also Fits GM TPS.

This sensor fits the same applications as Part Number C02F-0005. The differences are that this one has an option to run a rubber boot where the wires enter the connector and the terminal wire gets pushed into the rear of the connector (C03F-0005 is a pull to seat style connector).

This connector is supplied with genuine Delphi terminals for the highest quality crimp and pin to pin connection.
Details
NOTE: This is a "push to seat" connector.
---
NOTE:
OEM Connectors - The connectors we keep are high quality reproduction connectors that fit perfectly to the original sensor / actuator. However the terminals to suit our connectors very often do not fit the original housings so unless we are sure we do not sell the terminals only to suit OEM connectors.
MATING CONNECTORS
| | | |
| --- | --- | --- |
| PART NUMBER | DESCRIPTION | IMAGE |
| H-TPSDMC2 | 3 Pin Delco TPS Connector Male | |
| C03F-0005 | 3 Pin Delco TPS Connector | |
| C03L-8005 | 3 Pin Delco TPS Flying Lead | |
| C02F-0003 | 90 Degree Boot | |
RELATED COMPONENTS
| | | |
| --- | --- | --- |
| PART NUMBER | DESCRIPTION | IMAGE |
| 880-260 | Universal Crimp Tool | |
| H-TPSDC | Delco TPS | |
| H-PS100G-H | 100PSI Honeywell Pressure Sensor | |
| H-PS150G-TI | 150PSI TI Pressure Sensor | |
| H-MAP5R | TI 5 BAR MAP Sensor | |
We have recently changed our part number system, the previous part number for this item was H-SEN-MSC