HomeFuel System PartsFuel Injectors, Bosch Fuel injectorsFuel Injector Height Adapters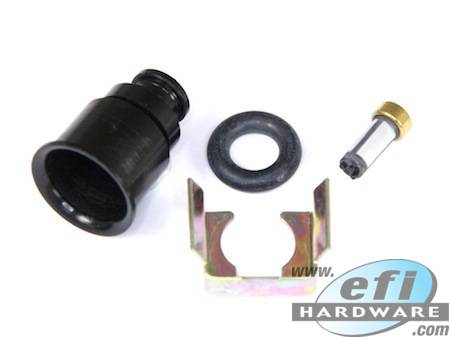 Injector Height Adapter 14mm to 14mm 3/4 Height Premium Kit
In Stock
Product Code: 851-14SP
$13.20
inc GST for Australian CustomersAUD $12.00 (ex GST)
for International Customers
6.44
GBP7.52
EUR13.20
NZD1,127.85
JPY8.09
USD
approximate only
Injector Height Adapters are commonly used to allow you to fit shorter injectors into fuel rail setup that originally had long injectors.

Injector Top Oring - 14mm
Fuel Rail Outlet - 14mm
Converts 3/4 Height injectors to Full Height
Details

If you use full height injectors, you can use them to lift your fuel rail if you need to move it away from modified intake plumbing, electrical wiring, or other engine modifications. If you change your fuel rail position, you will need to change the fuel rail mounting system to accomodate the new position.

This Premium Series Injector Height Adapter Kit contains:
1 x Injector Height Adapter - 13mm Nominal Injector Extension
1 x High Flow Injector Filter Basket
1 x 14mm Oring (Nitrile - E85 Compatible)
1 x Fuel Injector Retaining Clip
Retaining Clip - We've added another layer of piece of mind by including an Injector Retaining Clip. You are able to clip your injector directly into the Injector Height Adapter essentially making the Injector and the Injector Height Adapter into a single unit.
Nitrile Oring - The heighest quality Nitrile orings are used to ensure long oring life even when you put your injectors through the rigours of high ethanol fuels such as E85. These orings are E85 compatible.
Radiused Oring Seat - If you have a lot of experience installing injectors, you will have come up against "oring pinch". This is where orings are damaged during installation when the outer edge of the oring seat pinches the oring and in many cases, the oring is cut or torn. We have radiused the internal oring seat to reduce the chance of oring pinch.
High Flow Injector Filter Basket - We know you are going to push your engine either now, or in the future. Using high flow injector filter baskets ensures your injectors are never short changed in the fuel supply department due to low flow injector filter baskets.
Black Anodising - For both beauty and protection, we have anodised your Injector Height Adapters so they look really cool, plus, we keep all of the mating surfaces free from corrosion, so your orings and seals work time after time.