HomeFuel System PartsFuel Tanks / Fuel Tank Parts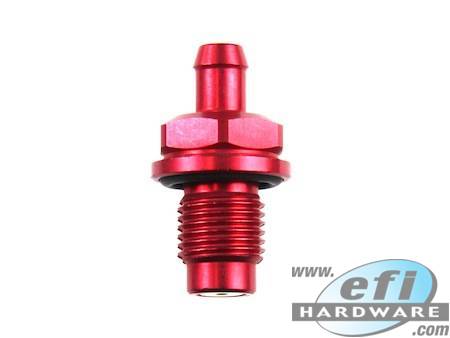 rollover vent valve 9/16" to 8mm nipple
In Stock
Product Code: SE-TRV68
$126.50
inc GST for Australian CustomersAUD $115.00 (ex GST)
for International Customers
65.33
GBP76.13
EUR127.27
NZD10,783.68
JPY79.13
USD
approximate only
Details
The object of a vent valve is to let air into the tank as the fuel level drops, and to stop fuel escaping.
The valves are installed as per illustration. The thread or standpipe at the top is where the air enters. It passes through the valve, exiting into the tank through a hole in the side of the valve body.
The amount of air drawn into the tank through the valve is equal to the volume of fuel drawn from the tank.
In the valve are two balls, one hollow plastic, and one stainless steel. If fuel enters the valve while the vehicle is cornering or braking, the hollow ball floats on the top of the fuel and moves to the top of the valve where it seals, so stopping fuel escaping.
If there is a roll over, and the vehicle ends up upside down, it is possible that the hollow ball might leave the seat and allow fuel to escape. The weight of the stainless ball keeps the hollow ball on its seat, and fuel cannot then escape.