PRO-RACE Duratec 4 cyl Kit 50/48/45
Suit Duratec Engines:
* 1600cc
* 2000cc
* 2300cc

- Direct to Head Ford Duratec 4 cylinder Pro-Race throttle body Kit
- Tapered bore size 50/48/45
(50mm at ram tube flange/48mm butterfly/45mm port before blending to port shape)

Kit Includes:-
2 x Pro-Race Duratec throttle bodies,
1 x Pro-Series joiner balancer with cable pull & throttle stop linkage,
4 x Pro-Series ram tubes.
(TPS, Regulator, regulator mounting kit and injectors not included P.O.A)
** Note - Pro-Race fuel rail kit and cable pull Bracket kit in the photos is an optional extra **
Product Details
FULLY ASSEMBLED VS SUB ASSEMBLED KIT:
We want to supply your Throttle Body Kit just the way you want it.
That's why we offer both Sub Assembled Kits, and Full Assembled Kits.
FULLY ASSEMBLED KIT:
By choosing the Fully Assembled Option above, you will receive:
- Each of your Throttle Bodies is precision factory assembled
- Throttle Shafts cut to correct lengths to suit your manifold
- Linkages are fitted and adjusted to ensure correct and smooth operation
Note: Although we will supply a great linkage fitment, final linkage adjustment
can only be carried out once the engine is running
- TPS "D" drive on the end of the shaft you stipulate so it's in the best position on your engine
- We may contact you with a few questions to ensure we supply the kit assembled to best
suit your application
SUB ASSEMBLED KIT:
By choosing the Fully Assembled Option above, you will receive:
- Each of your Throttle Bodies is precision factory assembled
- Throttle Shafts are left long so you can trim them to suit your engine and manifold
- Linkages are supplied for you to fit and adjust once you have trimmed your Throttle Shafts
---
WHAT'S IN THE BOX:
2 x Pro-Race Tapered Bore Throttle Bodies - Sizes 50/48/45
Pro-series 4 Cylinder Linkage Kit (Black) - Includes:

Joiner Balancer Cable Pull Throttle Stop - 6061-T6 Aluminium

4 x Pro-Series ram tubes (Black)
NOTE: Does Not Include Cylinder Head.
---
LINKAGE AND RAM TUBE COLOURS:
Due to overwhelming demand from our customers, we are transitioning our standard colour from Blue to Black. Black is a classic colour, and goes with pretty much every engine bay colour and style.
This includes Ram Tubes, Linkages, Cable Pulleys, Drop Links, Bell Cranks, and more.
Don't worry if you love blue, you can still get your kit in blue. There will be a small premium of $40 per kit to cover us sending out your kit of parts to be anodized blue. If you would like blue anodizing, please let us know by typing in the notes area of your order.
---
ACCESSORIES
PART NUMBER
DESCRIPTION
IMAGE

H-MAPCOL4

4 Cylinder MAP Sensor Collector




If you are after great drivability with
great engine response, you should

consider using a MAP Sensor Collector

for the ultimate blend of power, throttle

response and tunability.



---
QUALITY ASSURANCE:
Every single throttle bore and throttle plate are measured and matched as a pair to ensure the most perfect throttle fit and consistency across every EFI Hardware throttle body.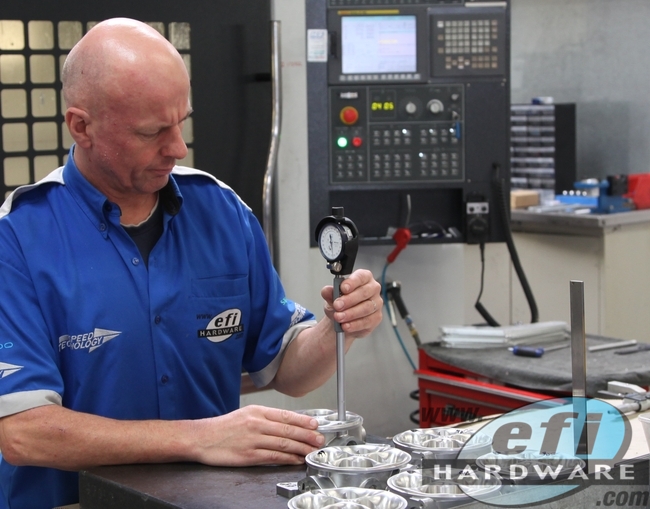 ---
Tapered Bore Throttles have a clear advantage over Parallel Bore Throttles at increasing power and torque. By accelerating the air through a venturi (in this case a tapered bore) the air speed through the throttle body is increased. This enhances the engine cycle's scavenging effect to provide more air and fuel in the combustion chamber and therefore more power and torque. The Tapered Bore has 3 sections: Inlet from ram tube - 50mm This then tapers down to a short parallel section for the throttle plate - 48mm There is a second taper down to the outlet flange of the throttle body - 45mm
GETTING THE RIGHT BALANCE:
The best idle and cruise quality will only occur when every throttle has exactly the same airflow. The only way to achieve this is to adjust the linkages and/or idle bypass screws and use a tool to measure the airflow at each throttle. Getting the right balance is not a should, it is a MUST.

We now recommend
and use SKF bearings.