HomeIntake HardwareThrottle Body Injection Kit8 Cyl Stack InjectionFord 8 Cylinder Throttle Body Kits
Pro-Series Ford 289/302 Windsor Quad IDF (2) V8 stack injection with rams
In Stock
Product Code: 800-982WINR-SA
$6,050.00
inc GST for Australian CustomersAUD $5,500.00 (ex GST)
for International Customers
3,010.43
GBP3,330.19
EUR6,003.43
NZD421,001.32
JPY3,935.25
USD
approximate only
Options:
This Windsor V8 Stack Injection 289/302 Quad IDF Pro-Street Throttle body kit.This kit is now available for the Ford 289 - 302 Windsor motors. Kit includes manifold, studs and nuts, assembled throttle bodies, linkages, ram tubes, fuel rail kit with -6 or -8 AN ends.
Details
HP RATING:
We rate our 50mm V8 Stack and Cross Ram kits at 580HP - 600HP.
This, of course, does not mean that your engine will make that much power, but so long as the rest of the engine and tuning is up to it, this kit can support up to between 580HP and 600HP.
---
BOOSTED VS NATURALLY ASPIRATED:
We have lip seals behind the throttle shaft bearings to stop grease from being sucked out of the bearings under high intake runner vacuum. These are turned around on boosted applications so there is no boost leakage and also stops the bearing grease getting evacuated from the throttle shaft the bearings.
We ask you if you are going to run your engine Boosted, or Naturally Aspirated so we can install the Lip Seals in your throttle bodies in the appropriate way to suit your application.
---
FULLY ASSEMBLED VS SUB ASSEMBLED KIT:
We want to supply your Throttle Body Kit just the way you want it.
That's why we offer both Sub Assembled Kits, and Full Assembled Kits.
FULLY ASSEMBLED KIT:
By choosing the Fully Assembled Option above, you will receive:
- Each of your Throttle Bodies is precision factory assembled
- Throttle Shafts cut to correct lengths to suit your manifold
- Linkages are fitted and adjusted to ensure correct and smooth operation
Note: Although we will supply a great linkage fitment, final linkage adjustment
can only be carried out once the engine is running
- TPS "D" drive on the end of the shaft you stipulate so it's in the best position on your engine
- We may contact you with a few questions to ensure we supply the kit assembled to best
suit your application
SUB ASSEMBLED KIT:
By choosing the Fully Assembled Option above, you will receive:
- Each of your Throttle Bodies is precision factory assembled
- Throttle Shafts are left long so you can trim them to suit your engine and manifold
- Linkages are supplied for you to fit and adjust once you have trimmed your Throttle Shafts
---
HERE IS ONE IN ACTION:
---

LINKAGE AND RAM TUBE COLOURS:
Due to overwhelming demand from our customers, we are transitioning our standard colour from Blue to Black. Black is a classic colour, and goes with pretty much every engine bay colour and style.
This includes Ram Tubes, Linkages, Cable Pulleys, Drop Links, Bell Cranks, and more.
Don't worry if you love blue, you can still get your kit in blue. There will be a small premium of $40 per kit to cover us sending out your kit of parts to be anodized blue. If you would like blue anodizing, please let us know by typing in the notes area of your order.
---
ACCESSORIES:
PART NUMBER
DESCRIPTION
IMAGE
H-MAPCOL8

8 Cylinder MAP Sensor Collector




If you are after great drivability with
great engine response, you should consider
using a MAP Sensor Collector for the ultimate
blend of power, throttle response and
tunability.



---
QUALITY ASSURANCE:
Every single throttle bore and throttle plate are measured and matched as a pair to ensure the most perfect throttle fit and consistency across every EFI Hardware throttle body.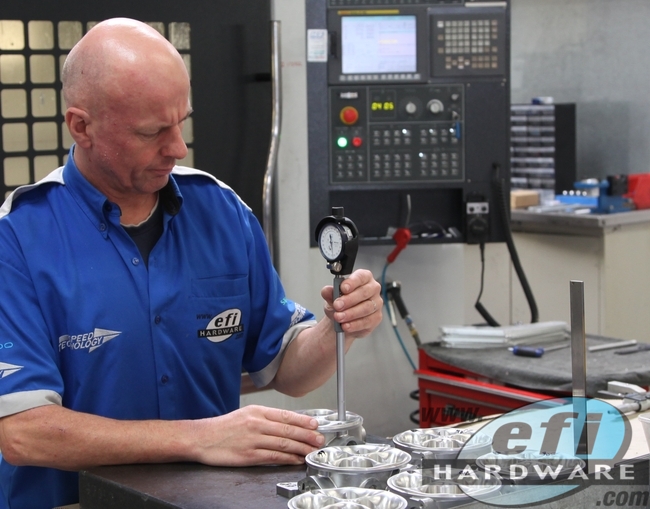 ---
THROTTLE BODY TECHNICAL DRAWING
HIGH PERFORMANCE FUEL SYSTEM PLUMBING TECHNICAL DIAGRAM

Setting up your fuel system right the first time is easy if you follow the right instructions.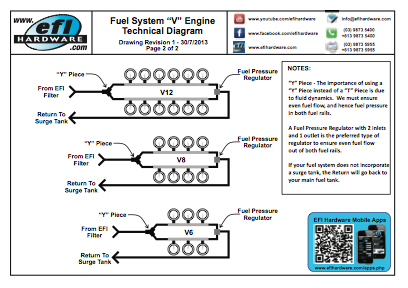 The kit can be fully assembled prior to dispatch, the cost is an additional $270.00.

The kit does not include TPS, injectors, mesh ram tube covers or air filters.

Other upgrade options include Pro Race throttle bodies in place of Pro Street $300.00.

Special pricing on injectors and TPS Kit when buying a complete kit.

Mesh covers option add $264.00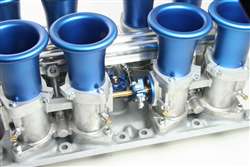 The Windsor IDF kit:
Some throttle systems fire the injector from the outside of the manifold across the port which results in poor idle characteristics and also a bad stumble off idle and under light acceleration.

Our new Series II IDF throttle bodies have the Injector located inboard to point the injector through the port and directly at the back of the inlet valve. This gives a far superior idle and much sharper throttle response.
It also improves emissions allowing a much leaner idle mixture & improving economy.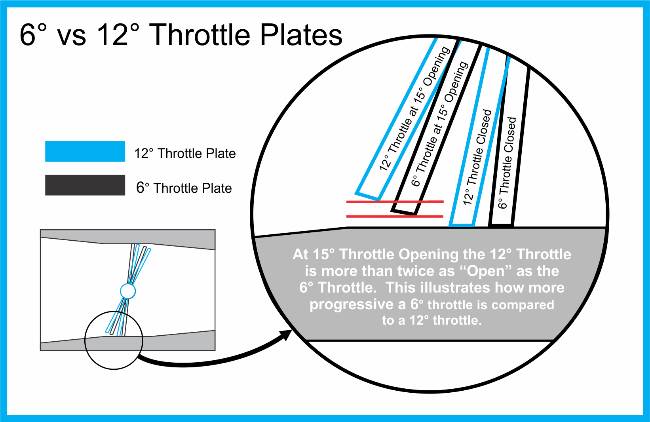 The one piece manifold has a vacuum plenum underneath for the brake booster and idle control.

Our new Pro-Series linkage set incorporates the throttle stops, idle controls, lever arms and joiner/balancer all in one. It also features a single screw adjustment for calibrating front to rear throttle shafts.

The bell crank has a fully indexable eccentric cable pulley that enables good slow speed drivability and still attain full throttle the geometry in the bell crank also assist this.

The Pro Street IDF II throttle bodies have the following features:
They are manufactured from 601 Cast aluminum and are heat treated before being CNC machined.
The butterflies are measured for each bore & precision machined to a 0.0005" tolerance.
Butterflies are secured to centreless ground brass shafts with split screws to ensure reliability and serviceability.

All are fitted with bearings rather than bushes to eliminate axial shaft movement.

Housing to shaft lip seals behind bearings for extra sealing under high vacuum.

Idle by pass air bleed screws for super smooth idle and to aid emissions tuning.

O'ring seals on lower mounting faces.

50mm bores currently, 52mm available soon.

Throttle bodies manufactured with 6 degree butterfly angle from 2008 onwards.

We now recommend
and use SKF bearings.