HomeFuel System PartsFuel Tank Conversion KitsAluminium Fuel Tank Conversion Kits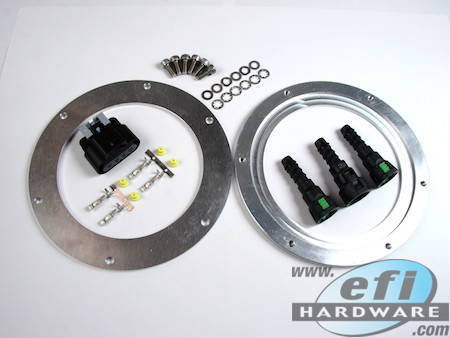 Installation Kit (Alloy Tank) for Ford BA FPV MRA
In Stock
Product Code: 850-110AK
$137.50
inc GST for Australian CustomersAUD $125.00 (ex GST)
for International Customers
68.40
GBP75.67
EUR136.51
NZD9,544.79
JPY89.27
USD
approximate only
Using an MRA (Modular Reservoir Assembly) is a great way to get a fuel pump and surge tank solution straight into your tank.

Weld in Ring is 154.5mm OD

This MRA Fitting Kit suits the Ford Falcon FPV MRA.
Details
WHAT'S IN THE BOX:
Top Plate: Aluminium
Bottom Plate: Aluminium
Electrical Connector: To suit Ford BA FPV MRA PN# 850-110P
Quick Disconnect Fuel Fittings: 1 x 3/8", 2 x 5/16"
Fasteners: 6 x M5 Stainless Steel Cap Screws with Washers and Locking Washers
NOTE: The seal for this kit is supplied with the Ford FPV MRA, and is NOT included in this kit.
---
The compatible Ford BA FPV MRA unit houses the Fuel Pump, Surge Tank (with return Mazzi Jet), fuel submersible wiring and fuel hose with bulk head assembly in one unit. It is spring loaded to ensure that it sits on the bottom of the fuel tank for maximum fuel scavenging.