HomeFuel System PartsFuel Tank Conversion KitsAluminium Fuel Tank Conversion Kits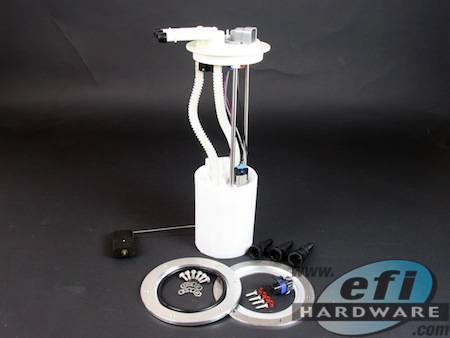 Weld in EFI fuel pump conversion kit suits tanks 255mm to 320mm high
In Stock
Product Code: 850-121A
$324.50
inc GST for Australian CustomersAUD $295.00 (ex GST)
for International Customers
149.70
GBP177.94
EUR307.07
NZD21,380.06
JPY193.36
USD
approximate only
Dead End Fuel Tank EFI Conversion Kit for Aluminum Tank 255 to 305mm high using VX Commodore MRA (Modular Reserve Assembly).
Ideal for an LS conversion.
This MRA uses an inbuilt fuel pressure regulator set at 48PSI (4BAR). It has 1 high pressure fuel outlet, 1 return line and 1 breather line. Quick disconnect inlet, outlet and breather connectors on top.

Details
WHAT'S IN THE BOX:

MRA: VT S1 V8 Modular Reserve Assembly (fuel pump)
Weld on Plate: Steel
Fuel pressure regulator: No internal regulator
Clamp Plate: Aluminium
Electrical Connector: To suit VT- 850-120E
Quick Disconnect Fuel Fittings: 2x 10mm to 10mm barb 2x 8mm to 8mm barb
Fasteners: 6 x M5 Stainless Steel Cap Screws with Washers and Locking Washers
O-Ring: Fuel safe O-Ring
Max tank height: 255mm
Min tank height: 310mm
HP rating: 500HP @ 4 BAR
The MRA unit houses the Fuel Pump, fuel reservoir (with return venturi jet for constant siphoning ), fuel submersible wiring and fuel hose with bulk head assembly in one unit. It is spring loaded to ensure that it sits on the bottom of the fuel tank for maximum fuel scavenging.

No need for a lift pump, surge tank, high pressure pump and external regulator, it is all neatly housed inside the fuel tank, reducing noise and fuel odour inside the cabin.




---