RACE-SERIES Holden 202 kit 48 mm
This Holden 6 Cylinder Injection System is designed to be used with a Holden 12 Port Cylinder Head.

Injectors & Throttle Position Sensors not included in price.
Product Details
6 Cylinder Pro-Race Kit with Weber DCOE Manifold Throttle Body Kit Contains:
3 x Pro-Series Throttle Bodies - Sizes 48mm
1 x Pro-Race fuel rail kit
Pro-series 6 Cylinder Linkage Kit - Includes:

High Quality Rod Ends
Drop Link - 6061-T6 Aluminium
Throttle Stop With Lever Arm - 6061-T6 Aluminium
Cable Pull - 6061-T6 Aluminium

Throttle cable bracket & 6 x Race-Series ram tubes
QUALITY ASSURANCE:
Every single throttle bore and throttle plate are measured and matched as a pair to ensure the most perfect throttle fit and consistency across every EFI Hardware throttle body.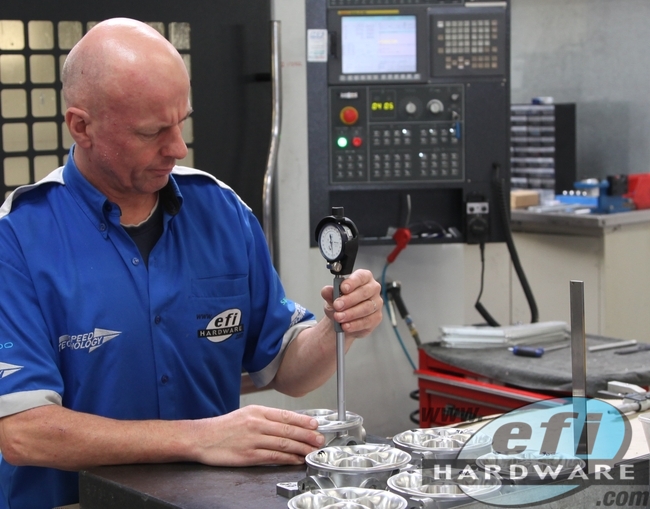 ---
THROTTLE BODY TECHNICAL DRAWING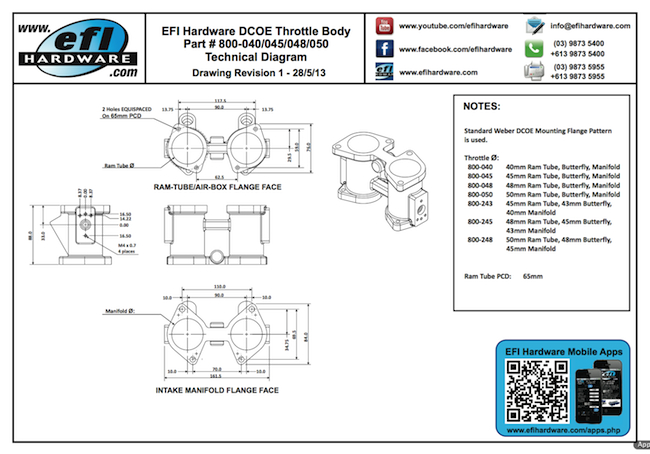 HP RATINGS
HP/kW Ratings vary from engine to engine. The power ratings given here are only a guide, and are not absolute power ratings. Engine power is determined by intake, exhaust, cylinder head design, camshaft design, compression ratio, fuel type and quality and many other factors.
48mm - 64HP/48KW* per throttle
*This number is a guide only and should be used in conjunction with real-world experience.
HIGH PERFORMANCE FUEL SYSTEM PLUMBING TECHNICAL DIAGRAM

Setting up your fuel system right the first time is easy if you follow the right instructions.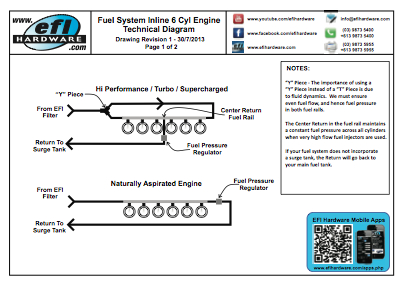 EFI HARDWARE PRODUCE 6° THROTTLE PLATES
In the past, 12° throttle plates were the industry standard. The problem with 12° throttle plates, is that as the plates are moved off the closed position, the change in airflow is huge. It makes it very difficult to drive smoothly at lower throttle openings.
At EFI Hardware, we only use 6° throttle plates. This improves off idle and cruise driveability making your vehicle far more enjoyable to drive.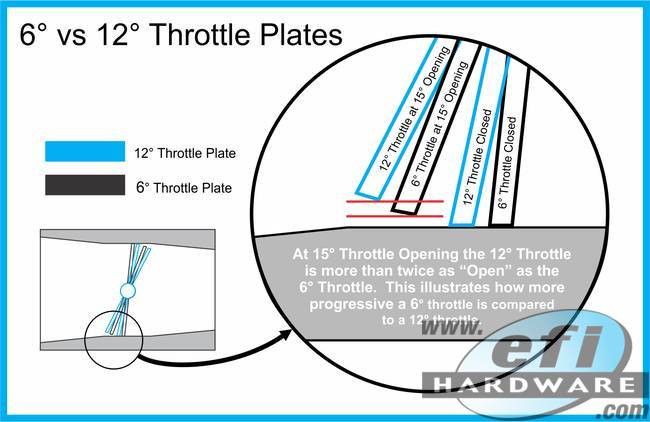 PROFESSIONAL GRADE MANUFACTURE
Manufactured from 601 Cast aluminum and heat treated before being CNC machined.
The butterflies are measured for each bore & precision machined to a 0.0005"" tolerance.
Butterflies are secured to centreless ground brass shafts with split screws to ensure reliability and serviceability.
All are fitted with bearings rather than bushes to eliminate axial shaft movement.
Low stiction bearings for sharp throttle response.
GETTING THE RIGHT BALANCE
The best idle and cruise quality will only occur when every throttle has exactly the same airflow.
The only way to achieve this is to adjust the linkages and/or idle bypass screws and use a tool to measure the airflow at each throttle.
Getting the right balance is not a should, it is a MUST.

We now recommend
and use SKF bearings.