HomeIntake HardwareVelocity Stacks and Ram TubesRam Tubes and Velocity StackRam Tubes & Velocity Stacks- Inc Base50mm Ram Tubes (Velocity Stacks)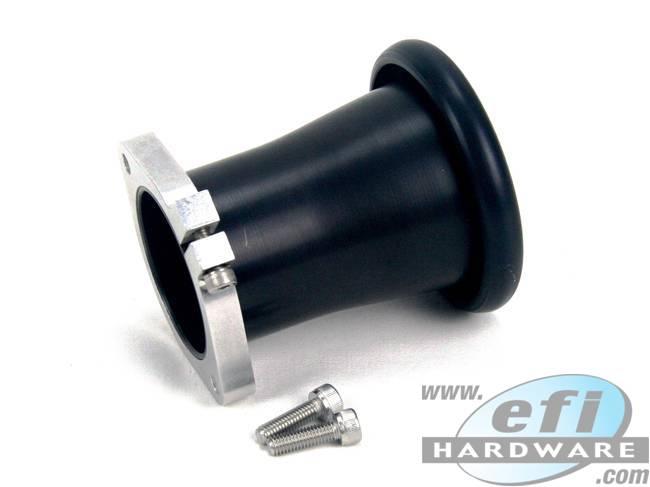 Ram Tube (Velocity Stack) 50mm pro series
Product Code: 830-050-BLK
$88.00
inc GST for Australian CustomersAUD $80.00 (ex GST)
for International Customers
44.33
GBP49.30
EUR83.93
NZD6,146.42
JPY59.08
USD
approximate only
Options:
The selected variation of this product is out of stock (other variations of this product are in stock).
These Ram Tubes (Velocity Stacks) Fits 800 series throttle bodies and carburetors with 50mm bore.

- Choose your colour from Black Anodizing or Raw aluminium.
- Choose your clamping base with 65mm, 67mm or 70mm mounting PCD.
- Choose your nominal length at 50mm, 100mm, 150mm or 200mm to suit your application. You can shorten each of these lengths for precise installation.
Details
ADJUSTABLE RAM TUBE LENGTH:
These 50mm Ram Tubes (Velocity Stacks) can be cut down to any length between the ORIGINAL LENGTH and the MIN CUT LENGTH to precisely match your application.
| | | | |
| --- | --- | --- | --- |
| ORIGINAL LENGTH | MIN CUT LENGTH | BELL MOUNT OD | MESH COVER |
| 50mm | 44mm | 84mm | 833-087 |
| 95mm | 67mm | 86mm | 833-087 |
| 150mm | 118mm | 99mm | 833-100 |
| 220mm | 180mm | 101mm | 833-103 |