HomeIntake HardwareThrottle Body Injection Kit4 CylUniversal 4 Cylinder Throttle Body Kits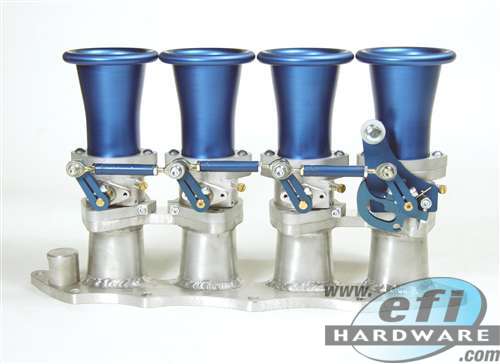 PRO-STREET 803 Series throttle body kit with vertical shaft 45mm
In Stock
Product Code: 803-240V-45-SA
$1,705.00
inc GST for Australian CustomersAUD $1,550.00 (ex GST)
for International Customers
835.45
GBP938.30
EUR1,662.90
NZD110,779.50
JPY1,030.45
USD
approximate only
Options:
803 Series 4 Cylinder throttle body Kit vertical shafts.
Includes:- 4 x 803 series throttle bodies, special vertical shaft linkage kit with Pro-series cable pull and throttle stop kit, throttle cable bracket & 4 x Pro-series ram tubes.

This kit is designed for where a fuel rail is mounted to the manifold, cylinder head or in conjunction with an external injector mount kit.
Details
BOOSTED VS NATURALLY ASPIRATED:
We have lip seals behind the throttle shaft bearings to stop grease from being sucked out of the bearings under high intake runner vacuum. These are turned around on boosted applications so there is no boost leakage and also stops the bearing grease getting evacuated from the throttle shaft the bearings.
We ask you if you are going to run your engine Boosted, or Naturally Aspirated so we can install the Lip Seals in your throttle bodies in the appropriate way to suit your application.
---
FULLY ASSEMBLED VS SUB ASSEMBLED KIT:
We want to supply your Throttle Body Kit just the way you want it.
That's why we offer both Sub Assembled Kits, and Full Assembled Kits.
FULLY ASSEMBLED KIT:
By choosing the Fully Assembled Option above, you will receive:
- Each of your Throttle Bodies is precision factory assembled
- Throttle Shafts cut to correct lengths to suit your manifold
- Linkages are fitted and adjusted to ensure correct and smooth operation
Note: Although we will supply a great linkage fitment, final linkage adjustment
can only be carried out once the engine is running
- TPS "D" drive on the end of the shaft you stipulate so it's in the best position on your engine
- We may contact you with a few questions to ensure we supply the kit assembled to best
suit your application
SUB ASSEMBLED KIT:
By choosing the Fully Assembled Option above, you will receive:
- Each of your Throttle Bodies is precision factory assembled
- Throttle Shafts are left long so you can trim them to suit your engine and manifold
- Linkages are supplied for you to fit and adjust once you have trimmed your Throttle Shafts
---
4 Cylinder 803 Series Throttle Body Kit with Vertical Shafts Contains:
4 x 803 Series Throttle Bodies 40, 45 or 48mm
Special Vertical Shaft Linkage Kit with cable pull & throttle stop linkage (Black)
Throttle cable bracket (Black)
4 x Pro-Series ram tubes (Black)
---
LINKAGE AND RAM TUBE COLOURS:
Due to overwhelming demand from our customers, we are transitioning our standard colour from Blue to Black. Black is a classic colour, and goes with pretty much every engine bay colour and style.
This includes Ram Tubes, Linkages, Cable Pulleys, Drop Links, Bell Cranks, and more.
Don't worry if you love blue, you can still get your kit in blue. There will be a small premium of $40 per kit to cover us sending out your kit of parts to be anodized blue. If you would like blue anodizing, please let us know by typing in the notes area of your order.
---
WHY THE VERTICAL SHAFT?
The vertical shaft has a major advantage, in that it introduces less eddies (than a horizontal throttle shaft) in the air flow as the air passes from the throttle shaft (and fully open throttle plate) to either the divider between the ports of a 2-inlet valve engine, or the vertical valve stem on a single inlet valve engine.
The reduced eddies have been responsible for power gains in high end race engines.
Due to effects at closed and very low throttle openings, these throttle bodies are only recommended for race engine applications.
---
ACCESSORIES:
PART NUMBER
DESCRIPTION
IMAGE
H-MAPCOL4

4 Cylinder MAP Sensor Collector




If you are after great drivability with
great engine response, you should consider
using a MAP Sensor Collector for the ultimate
blend of power, throttle response and
tunability.



---
QUALITY ASSURANCE:
Every single throttle bore and throttle plate are measured and matched as a pair to ensure the most perfect throttle fit and consistency across every EFI Hardware throttle body.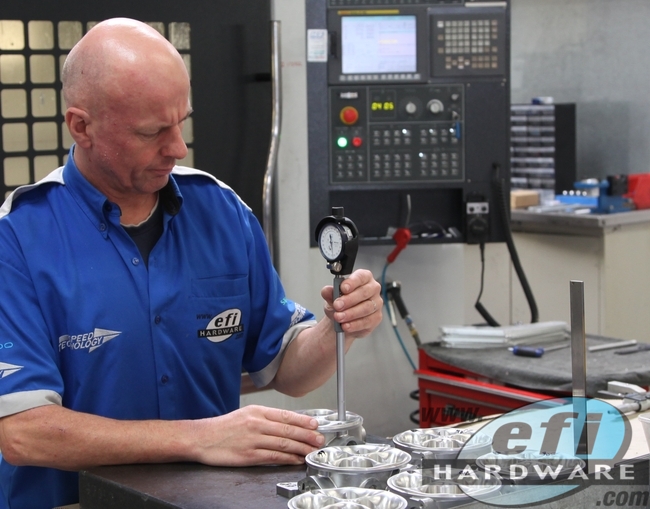 ---
EFI Hardware produce 6° Throttle Plates.
In the past, 12° throttle plates were the industry standard. The problem with 12° throttle plates, is that as the plates are moved off the closed position, the change in airflow is huge. It makes it very difficult to drive smoothly at lower throttle openings.
At EFI Hardware, we only use 6° throttle plates. This improves off idle and cruise driveability making your vehicle far more enjoyable to drive.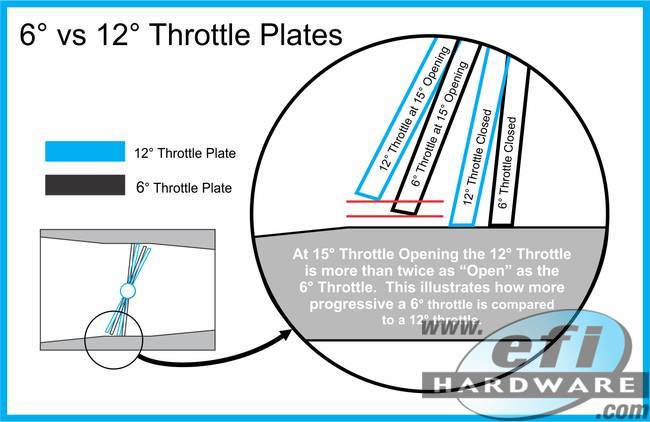 INJECTOR MOUNTING
The 803 Series throttle bodies are designed for applications where the fuel rail is mounted to the manifold, cylinder head, or in conjunction with an external injector mounting kit. Fuel injectors are not mounted to these throttle bodies, and are generally mounted directly to the cylinder head, or an external injector mounting system.
HP RATINGS
HP/kW Ratings vary from engine to engine. The power ratings given here are only a guide, and are not absolute power ratings. Engine power is determined by intake, exhaust, cylinder head design, camshaft design, compression ratio, fuel type and quality and many other factors.
45mm - 54HP/40KW* per throttle
*This number is a guide only and should be used in conjunction with real-world experience.
HIGH PERFORMANCE FUEL SYSTEM PLUMBING TECHNICAL DIAGRAM

Setting up your fuel system right the first time is easy if you follow the right instructions.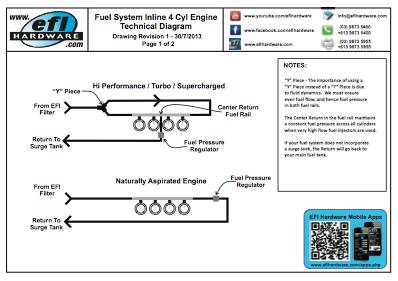 BUILT WITH THE HIGHEST QUALITY STANDARDS IN MIND
Years of development has lead to constant improvement right up until today, where these 803 Series throttle bodies are now considered the industry standard by many engine builders and engine tuners alike.
Track racing is one of the most demanding environments any fuel system can be exposed to. Using anything less than the highest quality intake components may lead to not only a disappointing finishing result, but also engine damage.
PROFESSIONAL GRADE MANUFACTURE
Manufactured from 601 Cast aluminum and heat treated before being CNC machined.
The butterflies are measured for each bore & precision machined to a 0.0005"" tolerance.
Butterflies are secured to centreless ground brass shafts with split screws to ensure reliability and serviceability.
All are fitted with bearings rather than bushes to eliminate axial shaft movement.
Low stiction bearings for sharp throttle response.
GETTING THE RIGHT BALANCE:
The best idle and cruise quality will only occur when every throttle has exactly the same airflow.
The only way to achieve this is to adjust the linkages and/or idle bypass screws and use a tool to measure the airflow at each throttle.
Getting the right balance is not a should, it is a MUST.

We now recommend
and use SKF bearings.